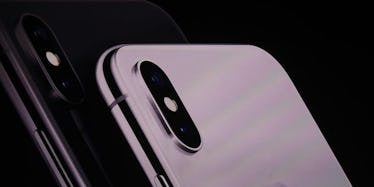 Report Says Face ID Components Might Lead To iPhone X Shortage And We're Bummed
Justin Sullivan/Getty Images
Oh, Romeo, Romeo, wherefore art thou Romeo? In case you didn't hear the sirens go off and the people crying in the streets, allow me to bring you up to speed: The iPhone X experienced a facial ID snafu, all thanks to components coined "Romeo and Juliet." This is definitely a tragedy of epic proportions because these two parts have the power to delay the release of the highly anticipated phone. In other words, we're all wondering if iPhone X will sell out over a shortage due to the cool Face ID feature.
"Romeo and Juliet" — Ying and Yang, Frick and Frack — are components that work together to bring the high-tech facial recognition feature of the phone to life. According to The Wall Street Journal, Romeo's modules have taken longer than Juliet's to assemble (thanks a lot, fella) -- and in turn, people are concerned that this will create an imbalance in the supply. The phone is set for a Nov. 3 debut and will start at $999. Some predict the issue will cause supply shortages for the big day.
This a hold up that techies cannot afford to have right now. Everyone has been waiting ever so patiently, and it seems the iPhone 8 was long forgotten after the X was announced at Apple's keynote address earlier this September. After all, there are animojis waiting on the iPhone X, therefore, delays are not an option.
With animojis, your favorite emoji will mimic your movements to create emotion. Thanks to the Face ID feature, users can channel their inner cat lady or dog lover and have the animals feel whatever they're feeling. Prepare to see a lot more annoyed pups and overjoyed kittens in the future. It's completely revolutionary… even if it seems a bit unsettling at first.
Have a look at the awesome animojis for yourself.
But that's just one feature of the new gadget. The iPhone X also comes complete with touch screen options, OLED display, wireless charging, and of course, Face ID. Those who want to try to hack into a stranger's device will definitely think twice. "This is a huge step forward for the iPhone," Cook said of the new toy.
For those who cannot wait for an upgrade, consider the iPhone 8. It's an awesome device and "does everything better than ever before," according to a Wired review by David Pierce. From phone calls, to direction features, streaming capabilities, and anything else you can imagine, the gadget and all of its features are top-notch... however, the iPhone X just might outshine it (after all, it is the anniversary phone).
If an iPhone 8 or an iPhone X isn't in the cards right now, no sweat: The iOS 11 update takes the phone's software to new levels. Users who have the iPhone 7, 7 Plus, 6, 6S, 6 Plus, SE, and 5S can make the update. According to an Apple press release, 
iOS 11 sets a new standard for what is already the world's most advanced mobile operating system. It makes iPhone better than before. It makes iPad more capable than ever. And now it opens up both to amazing possibilities for augmented reality in games and apps.
All in all, each upgrade and gadget is pretty remarkable, which was clear during the Apple Keynote on Sept. 12 . The event closed on an emotional note with reflections of founder Steve Jobs. Apple's Chief Executive Officer Tim Cook took the time to share a powerful message from the late Jobs. It read:
One of the ways that I believe people express their appreciation to the rest of humanity is to make something wonderful and put it out there.
Let's remember this is in fact an extraordinary, revolutionary device... and if there is a slight delay in its release, we're capable of making it through (even if we're slightly pissed with Romeo).
Check out the entire Gen Why series and other videos on Facebook and the Bustle app across Apple TV, Roku, and Amazon Fire TV.