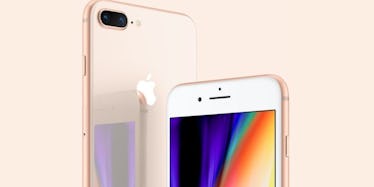 People Are Loving iPhone 8, But The iPhone X Is Overshadowing It For These Reasons
Apple
It was a big moment. Tim Cook stood on stage at the Steve Jobs Theater in Cupertino, California, and unveiled the iPhone 8 — Apple's highly anticipated device. Cheers erupted from the crowd, live streamers tuned in, and social media overflowed. But then, there was just one more thing the company had up its sleeve: the even more impressive, powerful, elaborate (and expensive) iPhone X. Now, iPhone 8 reviews show the new phone has been overshadowed by the iPhone X, and it seems like the once highly coveted item is already obsolete.
The 8 "does everything better than ever before," according to a Wired review by David Pierce. From phone calls, to direction features, streaming capabilities, and anything else you can imagine, the gadget and all of its features are top-notch. The iPhone 8 works amazingly well,Wired further claimed. Rejoice! The phone itself is sleeker-looking, accessing games and apps is easier and faster, and wireless charging is now a reality (can I get an "amen"?). To add to the hype, The Verge's Nilay Patel notes that the camera's capabilities are "really going to impress you," particularly if you're upgrading from anything older than a 7. Todd Haselton at CNBC adds to the sentiment and said it includes "fun upgrades for portrait photos and augmented reality." USA Today's Edward C. Baig simply called it an "excellent" phone. 
There's seemingly nothing wrong with this device... except it's not the iPhone X. Why get the 8 when something more impressive is releasing weeks later?
The 8 (womp womp womp) releases on Sept. 22 for $699 ($799 for the 8 Plus) and it seems no one is as excited as they once were. The iPhone X has officially rained on the parade and the iPhone 8 hasn't even been released yet, poor thing. It's like when the once Queen B of the group is overshadowed by another girl a la Regina George and Cady Heron.
When rumors were swirling months ago, many believed the 8 and the X were one in the same. Sadly for the 8, this is not so.
It's kind of hard to light a candle to the iPhone X (with no offense to the 8, of course).
For one, the device features state-of-the-art face recognition technology. Gone are the days where you plug in a code or use your finger to identify yourself and gain access into the device. Cook said the chances of someone breaking into your phone with these security capabilities are one in 1 million — which is positively mind-blowing. Think about it: Hackers will have finally met their match with these bad boys. Yeah sure, you can easily guess my six-digit code, but let's see you try to break into the cell now, suckers.
Perhaps even more exciting than new security devices is what you'll unlock when you actually gain access to the phone. There are now animated emojis called animojis, so let that sink in. While you're sending the sweet little pup who's sticking his tongue out via iMessage with your iPhone 8, your friends with the iPhone X will be able to get the dog's face to match their current mood. If they're upset, elated, frightened, what have you, they'll be able to express it through these emojis who have been brought to life. It's a bit creepy, but simultaneously extremely cool.
Take a look for yourself — the animojis are out of this world.
Jony Ive, Apple's chief design officer, said in a press release,
For more than a decade, our intention has been to create an iPhone that is all display. The iPhone X is the realization of that vision. … With the introduction of iPhone ten years ago, we revolutionized the mobile phone with Multi-Touch. iPhone X marks a new era for iPhone — one in which the device disappears into the experience.
It's definitely hard to compete with something that's a total game-changer. Plus, the iPhone 8 wasn't offered in rose gold — simply grey, space grey, and gold — so people are slightly peeved about that (OK, OK, minor detail).
Cook concluded Apple's highly publicized keynote address on Sept. 12 with a quote from Apple's founder, Steve Jobs that read,
One of the ways that I believe people express their appreciation to the rest of humanity is to make something wonderful and put it out there.
There is certainly no argument here. Anything and everything Apple creates is outstanding... it just so happens the iPhone X is more outstanding than the iPhone 8. Pre-orders for the iPhone X begin on Oct. 27 and the phone goes on sale on Nov. 3. The 64 GB version is slated at $999.
Check out the entire Gen Why series and other videos on Facebook and the Bustle app across Apple TV, Roku, and Amazon Fire TV.