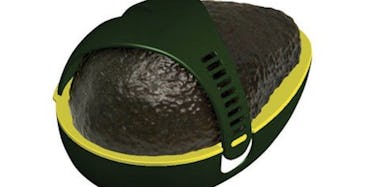 Your Leftover Avocado Half Will Finally Stay Fresh With This Much-Needed Tool
AvoSeedo
Anyone who eats only half of an avocado each time they indulge in the art-worthy fruit knows the common struggle of keeping the other half fresh for later.
Sometimes, it can feel impossible to avoid the dreadful browning that occurs once the lush green inside of an avo is exposed to the air.
However, thanks to a new tool created by the folks at AvoSeedo, we may be able to avoid the annoying predicament entirely.
(Considering the fact avocados are becoming more and more expensive due to a legit shortage, I'm all ears.)
The tool in question is called the Avocado Saver.
It basically snuggles your leftover half (with an actual strap, LOL) to slow down the oxidation process.
So, what does that mean?
It means that when you unstrap the half later in the week, it's going to look way fresher than it would've without — what I'm predicting will be — your new favorite kitchen tool.
AvoSeedo describes their innovative gadget as "a necessity for any avocado lover" on their website, and I have to agree.
I need this in my life, ASAP.
Unlike pricier home essentials you might splurge on (an amazing coffee maker, perhaps?), this little lifesaver retails for just $8.95, so it's not going to force you to stop brunching until your next paycheck.
Unfortunately, there aren't any customer reviews on the website, so we can't be sure the Avocado Saver actually works before we buy it.
But given the affordable price point and the fact that it's dishwasher safe (major bonus points), I'm honestly willing to give it a try regardless.
If it doesn't wind up working, I don't know — I guess I'll stick to Saran wrap.
Or maybe I'll try my best to re-create the avocado latte trend by adding espresso and steamed milk to an unsalvageable hollowed out half.