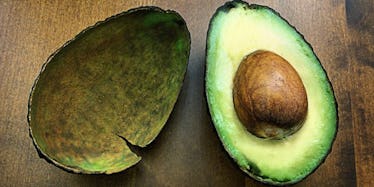 Avocado Prices Are Skyrocketing And Your Extra Guac Addiction Is To Blame
Getty
If you're one to indulge in extra guac at Chipotle on Taco Tuesday, now is a good time to take a deep breath.
It turns out our avocado supply is dwindling, and prices are soaring as a result of the shortage.
(I know, I'm just as upset about this as you are.)
Research from Money indicates Americans consumed 6.5 pounds of the superfruit per-capita in 2015, compared to 3.5 pounds nine years earlier.
We believed in the hype, and it definitely showed.
Even at 50 cents extra, no one is going to deny a little more guac on their burrito bowls — that's downright unfathomable.
Now, we're suffering the consequences of spoiling ourselves with extra scoops.
In the last six months or so, we've seen a significant increase in avocado prices. For instance, one avocado costs 2 dollars in some parts of the US as compared to their original price at 1 dollar or less.
Money reveals a Bloomberg quote discussing the wholesale price of a box of avocados, saying they're "more than double what it was a year earlier and the highest in data going back 19 years."
Holy guacamole — I'd say that's a pretty popular fruit.
So what's the reason for the shortage?
It turns out California's heat wave has affected production, thus supplying the country with less avocados for our guacamole fix.
OK, now we're going to get a little political -- so just bear with us for a second.
Unsurprisingly, two thirds of the guacamole consumption in the US comes from Mexico, where prices have also significantly increased. If we experience Trump's much-discussed import tax, get ready to shed even more dough on your favorite fruit.
But before we get annoyed, let's look at the positives: California is en-route to expanding to a year-round avocado crop-growing season across the state, as opposed to just the southern portion and the coast.
Stay calm, guac enthusiasts — we're going to get through this.
Citations: Avocado Prices Have Doubled in the Last Year and Show No Signs of Slowing Down (Money)