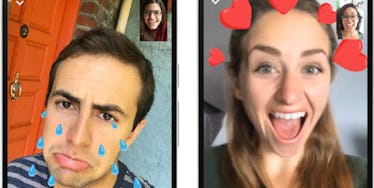 Facebook Messenger's Update Brings Your Emotions To Life With Reaction Filters
Facebook
Is it just me, or is expressing your emotions on social media becoming increasingly easier?
I mean, let's face it: Who needs to put in all that time and effort with facial expressions and emotions when a site will do it for you?
Facebook Messenger's latest update allows users to add reaction filters during live videos, which will help users express their emotions through new filters. So if you're not really into cracking a smile, there's an emoji that can help.
It's every lazy person's dream come true.
Was your friend's joke funny... but not really that funny? If you can't muster up a good chuckle, click the laughing emoji.
Are you feeling particularly lovey-dovey and not quite sure how to say it? Show it with some hearts!
In order to try the new reaction filters, open your Facebook Messenger, video call a friend, and then choose a filter by tapping on a Facebook reaction icon that'll appear on the screen.
If your current location doesn't quite match your personality, change it up with a colorful background. Sure, you might not be quite as clear to the person you're speaking to, but that's not the main point, folks.
Oh, you don't want a psychedelic red and yellow background? I think you do.
Though masks have been previously available on Facebook Messenger, they now react with your movements -- so get ready to hop that rabbit mask to the next level.
Personally, I'm always fond of an animal mask, regardless of the app. Also, a little sparkly lighting never hurt (even if it's fake).
What did we tell you? Pretty interesting right? Gone are the days where we had boring face-to-face videos (or simply in-person chats).
Speaking of technological advances, remember when you used to tell friends where you're were going with stickers and filters? Now Snapchat will do it for you, all thanks to Snap Map, which features a cute Bitmoji doing the same activity as you are in real time.
Since you're on the map, friends can easily locate you and make their way toward you (or, you know, exes can stalk you).
It's certainly an interesting way to communicate nowadays. Will you give these features a whirl or stick to the old-fashion way of doing things?