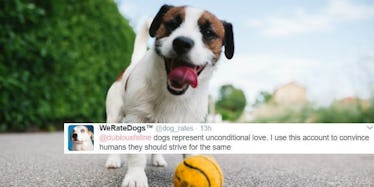 This Dog-Rating Twitter Account Is Standing Up For Immigration Ban Protesters
Simone Becchetti
While it's a truly terrifying time to be alive, we can all take solace in one fact: Dogs exist.
Doggos, who are all good and better in humans in almost every way (they are not good at chess, for example), can serve as a reminder to love unconditionally and find the goodness in yourself.
Twitter account @dog_rates, which was created by North Carolina college student Matt Nelson in 2015, usually sticks to rating dogs on a scale of one to 10. Of course, he often rates dogs over 10 -- because dogs deserve it.
Still, silence isn't an option when Donald Trump proposed his Immigration Ban. People on Twitter spoke up, protesters swarmed airports in response, and even Kim Kardashian pulled up some numbers.
So, it comes as no surprise the novelty account would post a response to Trump's unconstitutional order.
Obviously, since this is the internet, people who did not share Nelson and this dog's sentiments felt free to step forward and to suggest he keeps his account about dogs and not about politics.
While WeRateDogs main purpose is to grade cute dogs, this isn't the first time Nelson has had to put that on hold to talk politically.
And he wouldn't have to if some jerks didn't elect a former reality TV star into office, but here we are.
Nelson also posted this picture of a good canine at a Women's March that took place on January 21.
People who hate women (why else would you dislike the Women's March???) went in, but Nelson had the perfect response.
Yeah, feck off, Tom.
It is going to be a long four years, and people who disagree with Trump will have a lot of work to do. Thankfully, we live in a world where we can pat a dog and feel a little better.
Citations: WeRateDogs Twitter combats Muslim ban with 'unconditional love' (Mashable)