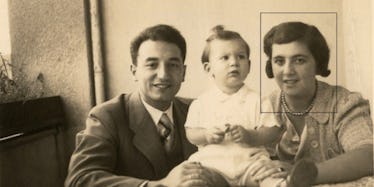 Tragic Twitter Shows Holocaust Victims Who Died After US Turned Them Away
Twitter
This Friday marks the annual International Holocaust Remembrance Day, which is the anniversary of the liberation of the Auschwitz-Birkenau concentration camp.
In recognition of the day, a new Twitter account, St. Louis Manifest, was started.
The Twitter account is simple. It's sending out tweets with the names of people who were turned away by the United States when they sought refuge.
These people were later killed in the Holocaust.
Many of them were killed at the Auschwitz concentration camp, while others died in Belgium and France over the course of World War II.
The people included in this Twitter list did not have to die in Europe.
In fact, they actively sought refuge in the United States, but were denied.
The name of the Twitter account came from a ship called the St. Louis.
The St. Louis had 937 passengers onboard when it sailed from Hamburg, Germany to Havana, Cuba in 1939.
Nearly all of those passengers were Jewish people fleeing Nazi persecution.
Their plan was to stay in Cuba until their U.S. visas were approved. They had landing certificates for Cuba that were provided by a Cuban official who resigned over corruption.
Because of that, they were denied entry in Cuba.
There were negotiations with the-then-president of Cuba, but he refused to allow the passengers to enter the country, with the exception of 28 passengers who had valid US visas and entry documents.
The ship turned around, sailing right past Miami. Passengers tried to cable President Franklin D. Roosevelt, but got no response.
One passenger got a telegram from the US State Department telling them to "await their turns on the waiting list and qualify for and obtain immigration visas before they may be admissible into the United States."
While some politicians and advocates tried to get them access to safety, they were ultimately sent back to Europe.
This was partly due to U.S. immigration policy, which limited the amount of immigrants allowed entry.
When they returned to Europe, Jewish organizations were able to set it up so that they didn't have to go back to Germany. They were split between Great Britain, the Netherlands, Belgium and France.
But over the course of World War II, not all of those countries were safe.
By the German invasion in 1940, 532 people who were turned around in Cuba remained in Western Europe.
The people in England survived save one, who died in an air raid.
254 people -- about half of those stuck in Western Europe after being rejected by Cuba and the United States -- were killed.
This is a stark reminder of how immigration policies and fear of refugees often ends in death.
These people were seeking safety for their lives, and the United States turned them away because of immigration policy.
Citations: Twitter, US Holocaust Memorial Museum