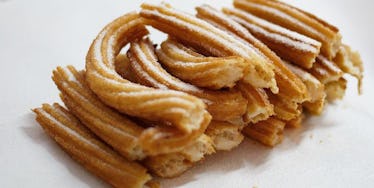 Disneyland's Pumpkin Churros Are The Tastiest Way To Get Into The Halloween Spirit
Pablo Blazquez Dominguez / Stringer / Getty Images
The season wouldn't be complete without Disneyland treating its visitors to a large helping of pumpkin. If you've already gotten your fix of the fall fruit with one too many PSLs, it's time to switch up your order. Disneyland's pumpkin churros are the perfect way to satisfy your sweet tooth and get into the the Halloween spirit. In case you weren't convinced that this is, in fact, the happiest place on earth, grab some of Disney's fall treats to make a spooky statement.
For those who are in an all-pumpkin-everything mood (obviously appropriate once September hits), make your way to Cozy Cone Motel in Disney's California Adventure Park to get a sampling of the good stuff for $4.50, according to Delish. The deep-fried glitzy orange slices of dough are the Halloween treats that'll make even the holiday naysayers come around.
But perhaps — as lovely as pumpkin is this time of year — there's something else you're craving. Fear not, foodies. Mickey's got the menu under control. Halloween churros are also available and come in a deep purple hue for those in need of a pumpkin alternative (or for those who are truly adventurous and want both desserts). However, the flavor of the Halloween churros is not entirely clear — but it looks so inviting that you'll just need to give it a whirl to find out.
Naturally, those who embrace the fall are ready for the pumpkin churro.
Get your pumpkin on, folks.
This is a cause for celebration, Disney visitors. It's worth enduring a bit of scariness, wouldn't you agree? Oh, tender lumplings everywhere, as they say: "Life's no fun without a good scare." What's truly scary is the fact that the pumpkin churros are only available until the end of October, so if you're going to make a trip, get to the park as quickly as possible. This is not a drill.
But for those who cannot get to Disney, it's OK. There are plenty of other ways to do Mickey proud this Halloween. Have a taste of a something spooky with pumpkin Rice Krispies, pumpkin cheesecake, pumpkin spice waffles (hellooo brunch) or pumpkin spice jello.
If those options are too tame for those who just can't help but unleash their inner wicked witch or frightening ghoul, there are also many unconventional ways to get the pumpkin treatment. These new and innovative ideas are anything but "basic," so don't stress. You are going to be the hit of the Halloween party for sure.
If you really want to pay homage to the almighty pumpkin, make sure you bring up the pumpkin ombré hair to your stylist during your next coloring appointment. Yes, pumpkin spice ombré hair has hit the scene just in time for your scary movie binge on Netflix.
If a new 'do is too much of a commitment, you can take comfort knowing that you can at least smell like a pumpkin thanks to pumpkin spice deodorant. Or, if you're a fan of the scent but prefer it not to grace your pits, just buy a pumpkin spice latte candle so your place can get a boo-tiful whiff.
While pumpkin might some serious teasing, the fall staple is actually pretty healthy. It's not a bad idea to get a pumpkin fix year-round, and not just in September or October. It's believed that pumpkin is helpful for your digestion, improves eyesight, and even puts your guy in the mood for a good time.
Well, well, well, isn't that an interesting tidbit? For all those who cracked basic jokes at a pumpkin lover's expense, it looks like the joke is on you.
Check out the entire Gen Why series and other videos on Facebook and the Bustle app across Apple TV, Roku, and Amazon Fire TV.