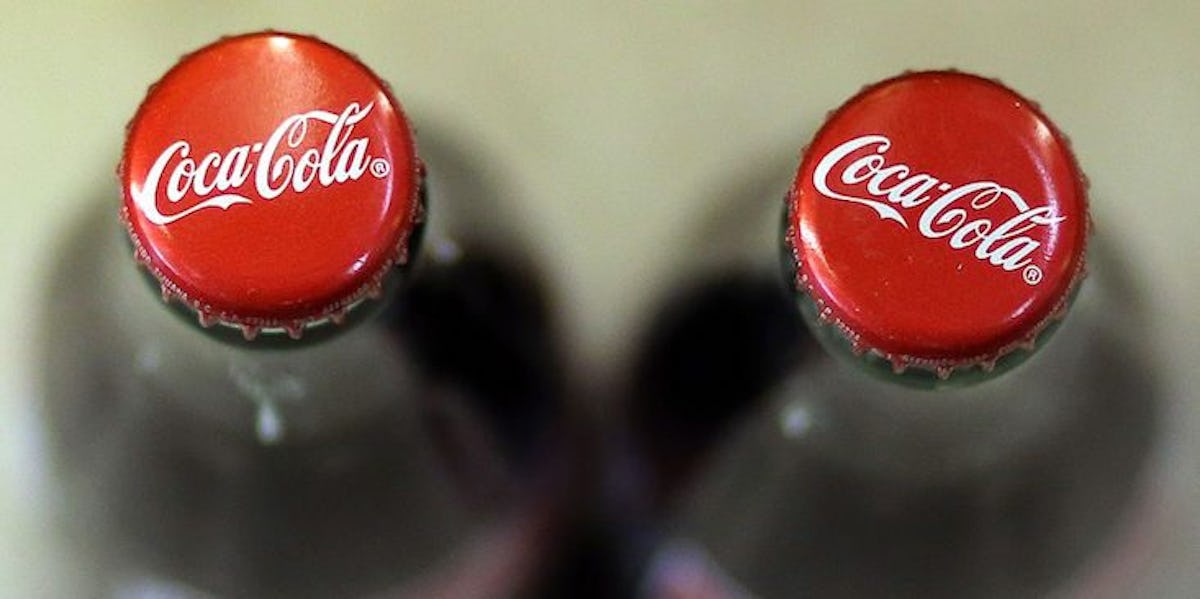 Coffee-Flavored Coca-Cola Is Now A Thing And Twitter Is Really Torn About It
Justin Sullivan / Staff / Getty Images
The coffee-soda combination once seemed like a specialty item — something you only purchase for certain occasions or meals. Now, however, the caffeinated dream team has joined forces thanks to the new Coca-Cola Plus Coffee No Sugar. Though the drink is accessible and ready for any meal, it seems Twitter is completely torn over this new flavor. Before we get into where you can buy Coca-Cola Plus Coffee No Sugar, let's talk about how it tastes.
"It's a fresh take on the delicious taste of Coca-Cola Classic but with the unmistakable aroma of real coffee and some subtle caramel undertones," Coca-Cola Australia spokeswoman Lisa Winn said in a statement, according to Mashable. If ever a mixture so perfect, one would assume it'd be everyone's favorite soft drink and morning go-to. While some people are ready to take a sip, others are less inclined to do so.
This whole debacle reminds of the first time I tried a Manhattan Special — another take on the famous drink combo. In a Brooklyn neighborhood lined with brownstones, eateries, and the oh-so-lovely sounds of the BQE, there's a small Italian restaurant that's been around for 100 years — literally. Ferdinando's is famous for its Sicilian dishes like the potato special and spleen sandwich (though I've never been brave enough to try it) and of course, glasses of the Manhattan Special. What better way to wash down those carbs than with a sip of the coffee-soda flavored treat? When my former boss catered our lunch and insisted we try the Manhattan Special, it took me from 1 p.m. until the end of the day to finish it (not the case with the rice ball, though).
Though on their own, coffee and Coke are delicious. When brought together, some are skeptical.
Others are totally in favor of Coca-Cola Plus Coffee No Sugar.
It's certainly interesting... but not bad.
If Twitter has convinced you to try the treat for yourself, that's terrific. One thing you should know: It's currently available only in Australia. For those of you who give it a hard pass, at least you can take comfort in the fact that it's all in the Down Under (unless, of course, that happens to be your location as well).
So if you like your coffee sans soda, you're in luck because Starbucks is really on top of its game as of late. Now that it's officially fall (though it still feels like summer in some parts of the country) the pumpkin spice craze has officially taken over in everything from coffees and booze to cookies, bread, and even — get ready for it — deodorant and hairspray. Everyone hail the pumpkin king now.
But if all pumpkin everything isn't really your thing, Starbucks' new Maple Pecan Latte is the talk of the town and just might give the PSL a run for its money. Pretty soon the phrase will replace "pumpkin spice" with, "Maple, spice, and everything nice.' The MPL will have sugary orange sprinkles atop of its creamy foam that'll make your order scream "Halloween." It's probably a good way to celebrate National Coffee Day on Sept. 29.
And for those who are looking for a 21-plus answer to fall flavors, it's just been revealed that Canada's Lucky Bastard distillery put on its thinking cap and unleashed the PSL in alcohol form with $39 bottles of Pumpkin Spice Vodka for a limited time. If you need a way to spice up that Halloween party, you better believe this is the answer.
So whether or not you'll have your coffee and Coke, too, or you'll opt for fall-flavored treats, there are plenty of options to choose from. Cheers!
Check out the entire Gen Why series and other videos on Facebook and the Bustle app across Apple TV, Roku, and Amazon Fire TV.