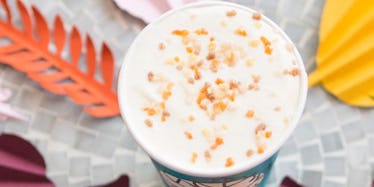 Starbucks' New Maple Pecan Latte Has One Sweet, Glittery Detail That You'll Love
Starbucks
As you know, Starbucks drinks are always Insta-worthy. Whether you're sipping on a frappuccino or festive PSL, you're probably going to post a picture of the cup on Instagram. Hey, there's no shame in the game. I don't blame you, because lattes and frappuccinos are cute AF. However, Starbucks' newest release is even cuter than the rest. It's called the Maple Pecan Latte (MPL), and it's giving the Pumpkin Spice Latte a run for its money. Aside from it's sweet, autumnal taste, the MPL has one tiny detail that you're bound to love, and it's perfect for your fall Instagram aesthetic. Seriously, once I show you photos of Starbucks' Maple Pecan Latte, you're going to be so excited to try one (and post about it).
But first, let's talk about that tiny detail on the new latte that you're bound to be obsessed with. Unlike the PSL, the MPL will have sugary orange sprinkles that'll make your drink look like it was dusted with Halloween glitter. The sprinkles sit on top of the latte's foam and give the festive morning drink a sweet, sugary flavor with the beginning of each sip. A Starbucks spokesperson tells Elite Daily that these sprinkles -- officially named the Autumn Sugar Topping -- were made exclusively for the Maple Pecan Latte. That's super special, if you ask me.
Without further ado, let's look at some photos of Starbucks' newest fall flavor.
Take a look at the sugary orange sprinkles and tell me how excited you are to post a picture of this drink on your Instagram.
Honestly, can this drink get any more festive?!
No need for a cinnamon dusting; these glittery orange sprinkles do the trick.
It's so beautiful. The Autumn Sugar Topping matches the fall leaves almost perfectly, and I can already imagine all the Insta-worthy possibilities this autumn will bring.
Seriously, though -- these sprinkles taste as sweet as they look. Luckily, I had the opportunity to try the Maple Pecan Latte, and the Autumn Sugar Topping was my favorite part. The tiny sugar gems provided a sweet sensation before the bold maple coffee flavors hit my tongue, and I can hardly imagine my autumn mornings without them. Oh, you better believe I'll be posting an IG picture feature these sprinkles when the drink comes out on Friday, Sept. 22.
Speaking of the MPL's release date, let's talk about what you'll expect upon purchasing the newest fall latte. According to a statement about the PSL emailed to Elite Daily, a Tell Maple Pecan Latte will range from $4.25 to $4.45. This means you should probably balance your MPL/ PLS intake throughout the week so you can budget your mornings accordingly.
Once you are handed a gorgeous Maple Pecan Latte, you'll probably be surprised by another asset to the drink: its cup. That's right: Starbucks' new Fall Cups are also being released on Friday, Sept. 22 in honor of the first day of fall. These cups will mimic Starbucks' Spring Cup collection, which had blank white circles in the middle of them to provide a space for customer doodles. However, Starbucks' jewel-colored Fall Cups will come in teal, orange, and maroon so you can feel the autumn spirit as you're sipping on your MPL (or PSL if you don't like too much change). Some cups will come with drawings on them already (like a pie, owl, and a pumpkin), and some will come blank.
With that being said, these cups might inspire you to take a break during your work day to draw something spooky, like a ghost or a jack-o'-lantern. I don't know about you, but I'm excited to get creative with my afternoon pick-me-up.
Sadly, these fall-inspired cups won't last forever. In fact, they will only be available while supplies last -- so make sure you get one while you can!
Check out the entire Gen Why series and other videos on Facebook and the Bustle app across Apple TV, Roku, and Amazon Fire TV.