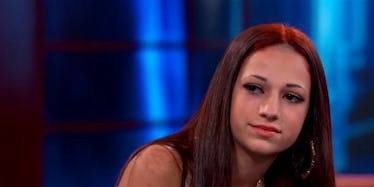 'Cash Me Outside' Girl's Dad Is More Appalled By Her Viral Vids Than All Of Us
YouTube
The dad of "Cash Me Outside" girl Danielle Bregoli has broken his silence about his daughter's ridiculous stream of viral videos.
And, as it turns out, Ira Peskowitz is even more shocked by the teen's reckless and unpredictable antics than the rest of us.
Of course, there's her appearance on "Dr Phil" and the immortal "Cash me outside, how bow dah" line, which has gone down in meme history.
Then there's the music video where she makes it rain, and the video of her allegedly punching a woman on a plane.
But her dad, who has a distant relationship with his daughter, has strong words about her behavior and anyone supporting her.
The 49-year-old sheriff's deputy told the Palm Beach Post,
That behavior is appalling. And it's appalling that anyone can think it is acceptable behavior. And Dr. Phil? Shame on him.
Danielle, 13, shot to internet infamy last year after an aggressive appearance on "Dr Phil," where she admitted to stealing cars and told the audience, "Cash me outside, how bow dah?"
But while her mom, Barbara Bregoli, joined her on the show and in some of the viral clips, her father has never been seen.
He was briefly referenced on "Dr Phil," where he was painted as an absent father who started a new life with a new family.
But Peskowitz claims that isn't true. He said,
Danielle feels rejected by me. That poor girl. I did not abandon her. I left her mother, but I did not abandon her. I know there is a little girl in there and I hope one day she can hug me and say, 'I love you, daddy.'
Years of court records seen by the Palm Beach Post show how Danielle's parents have fought a protracted legal battle over visitation ever since she was young.
Documents allege Pregori moved away and made it almost impossible for Peskowitz to see his daughter.
But there were claims of harassment from both sides, and Peskowitz says he still pays child support to this day.
However, he does not have much of a relationship with Danielle, though they do keep in touch by phone.
One poignant line, taken from a letter written to the court by Bregoli during the legal battle with her ex-boyfriend, reads,
The saddest part is the one person who is going to suffer and be damaged from all of this is an innocent child who did nothing.
Her father hopes she gets the help she needs.
Citations: EXCLUSIVE: 'Cash me outside' teen's father breaks silence (Palm Beach Post)