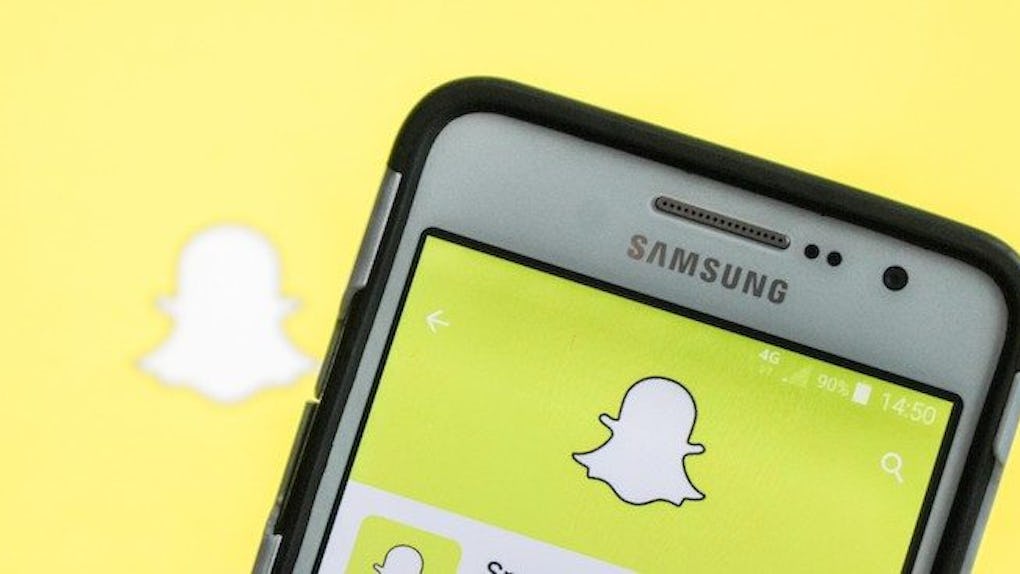 NurPhoto/Getty Images
When Will Snapchat Sky Filters Be Available On Android? They Already Are, So Rejoice
Sky Filters on Snapchat are finally here to make those rainy days a little bit brighter. News of the filters recently broke and I'm delighted to share a tiny detail about them -- but first, let's talk about what they do. The new Sky Filters work by using your rear-facing camera to transform the sky around you into a beautiful sunset, a starry sky, or a sky filled with rainbows. I can already imagine folks transforming those dreary days into beautiful ones. I'm sure some of you are wondering, "When will Snapchat Sky Filters be available on Android?" Well, my friends, you're in luck... because they already are.
To get started using Sky Filters on Android, visit Google Play and see if there is an update available for your device. If there is, download it, and you'll be one step closer to using Sky Filters on Snapchat. Once your app is updated, take a picture of the sky. After you've snapped your scenic picture, swipe through your Filter carousel until you reach the Sky Filter. (Keep in mind the Sky Filters will not be available in the Lenses carousel.) Once you've reached the Sky Filter, you'll know -- because your sky probably changed colors or added a few fluffy clouds. According to a Snapchat press release emailed to Elite Daily, the filters will rotate daily with new forecasts.
The new Sky Filters on Snapchat will be ever-changing and will include stormy clouds, sunsets, and rainbows. See a photo of how the Sky Filters look below.
As you can see, you can turn a bright day into a starry night and a gloomy day into a sunset. I can't wait and see what other Sky Filters Snapchat has up its sleeve, but until then, we can entertain ourselves by using the different AR filters the app has available. You can choose from the engaging 3-D Bitmoji filters that feature small digital versions of yourself dancing, doing yoga, or standing next to the water cooler.
You can also use World Lenses — which were released earlier this year — to place puking rainbows and the funny dancing hot dog wherever your heart desires. These filters will certainly help pass the time when you're commuting or listening to a less-than-entertaining lecture in class.
Snapchat just turned six years old on Sept. 26 and the app's sixth year of life has been a big one. Aside from all of the cool augmented reality features they have released this year, Snapchat has also made it possible for users to take minute-long videos with their Multi-Snap feature. This new Multi-Snap feature works by holding down the record button on Snapchat and easily recording up to six 10-second clips. The best part is, you can delete and edit each clip to your liking, so you never have to upload a Snap video you're unsure about again.
The Multi-Snap feature wasn't drama free. When the feature first came out in July, it was not available for use on Androids, but users were promised the feature would be available for them "soon." But this time around, Sky Filters became available for both iPhone and Android at the same time, and I'm sure Android users everywhere are excited about that. The filters were first introduced on Monday, Sept. 25, and are currently being rolled out on both phones.
Snapchat has also made it possible for both iPhone and Android users to create custom geofilters straight on the app, and making a custom filter is fairly simple. You can use Bitmojis and Stickers to make your own geofilter for just $5.99. If you do decide to create one of these filters, iPhone users will be charged using In-App purchasing for iOS, and Android users will be charged using a similar In-App billing for Android.
Let's hope that Snapchat will continue to cater to both iOS and Android users (at the same time) like they've done with the newest Sky Filters.
Check out the entire Gen Why series and other videos on Facebook and the Bustle app across Apple TV, Roku, and Amazon Fire TV.