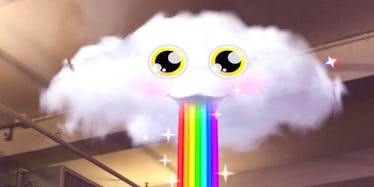 Snapchat 'World Lenses' Make You Feel Like You're On Acid, Trippy Videos Reveal
Snapchat
Say Donald Trump becomes president of the United States. Or, say Hillary Clinton becomes president of the United States.
Either way, you're going to need a distraction from reality.
It's like Snapchat read our minds. Its new update does exactly that.
The nerds over at Snapchat HQ just dropped an awesome new feature called "World Lenses." Basically, if you tap your screen while on outward camera mode, your view will be transformed into an epic scene.
Yes: It'll take you on a magical journey far, far away from Election Day.
Choose the puking rainbow clouds for maximum acid trip value.
Or, you can transform your world into something from a comic book. GET ME PICTURES OF SPIDER-MAN.
Confuse your colleagues by shining an imaginary light in their grill.
Pretend you're in a winter wonderland, and all your problems are buried under the snow.
Send creepy love to that one colleague you opened your heart to at the Christmas party, but had it torn up in front of your eyes.
Yes, all of this is a sure remedy for post election blues.
But you know what else Snapchat hid in its latest update? A setting to pair the app with Spectacles via Bluetooth.
This COULD mean they're about to go live.
News about Snapchat's new glasses leaked earlier this year. The company is rumored to have been working on them for years.
No release date has been issued yet, but it is thought the glasses will cost quite a lot of dollars.
It may not be a coincidence the new update comes with the Spectacles pairing feature and a whole new set of filters.
Could World Lenses be a glimpse of what we can expect to see through the eyes of Snapchat's new glasses? Only time will tell.
BUT HOW MUCH TIME, SNAPCHAT?! Your people are hungry for new social media platforms. Feed them.