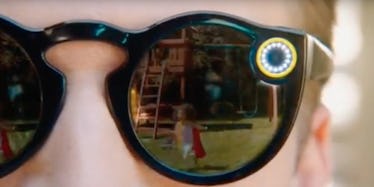 Snapchat's Leaked Video Shows Off Their Secret New Glasses
Business Insider/Snapchat
If you're a Snapchat addict, like Kate Hudson or Kylie Jenner, then get ready for the next evolutionary step in the way you snap.
After a video leaked online, we all now have the very first look at the secret pair of sunglasses the social media company has, according to rumor, worked on for years.
And these glasses are not the simple old bifocals that come with the Old Man filter, as cute as they are.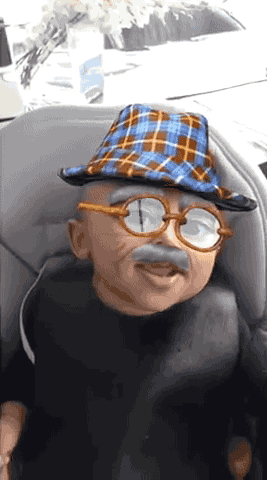 Business Insider has the entire video ad that showcases the new glasses, which are apparently (and aptly) called "Spectacles" by "Snap Inc."
Does a new product justify a new company name? Business Insider believes that the apparent change might come as a result of their expansion into sunglasses.
If I were feeling pun-ny, I'd say this change in name is app-ropos. But I'm not, so sorry.
The new eyewear has a camera built in, and according to the commercial, can record snaps entirely from your perspective.
It's kind of like turning your Snapchat Story into the boring, much shorter version of "Hardcore Henry."
Snapchat quickly took down the video link that was sent to Business Insider by a tipster (ooh, so hush, hush) and exerted a copyright claim, but Business Insider was quick enough to record it all.
Wow, a Snapchat video that was meant to be deleted was accidentally captured? Sounds like a first!
Recently, the iconic Snapchat ghost appeared on Wall Street, but with different eyes that seem to match the lit-up camera from the ad as well as the logo shown at the tail end of the "Spectacles" commercial.
What's this on Wall Street pic.twitter.com/LqG1XKO8NM — Zach Kahn (@zkahn94) September 18, 2016
Since Snapchat has not responded to Business Insider for comment, we don't know if this showcase was supposed to be an internal video or an actual advertisement.
Time will tell when we can start saving up to buy these spectacular Spectacles.
Do you guys remember getting excited about buying a pair of Oakleys? Man, we've come a far way.
Citations: REVEALED: Leaked video shows Snapchat's new glasses (Business Insider)