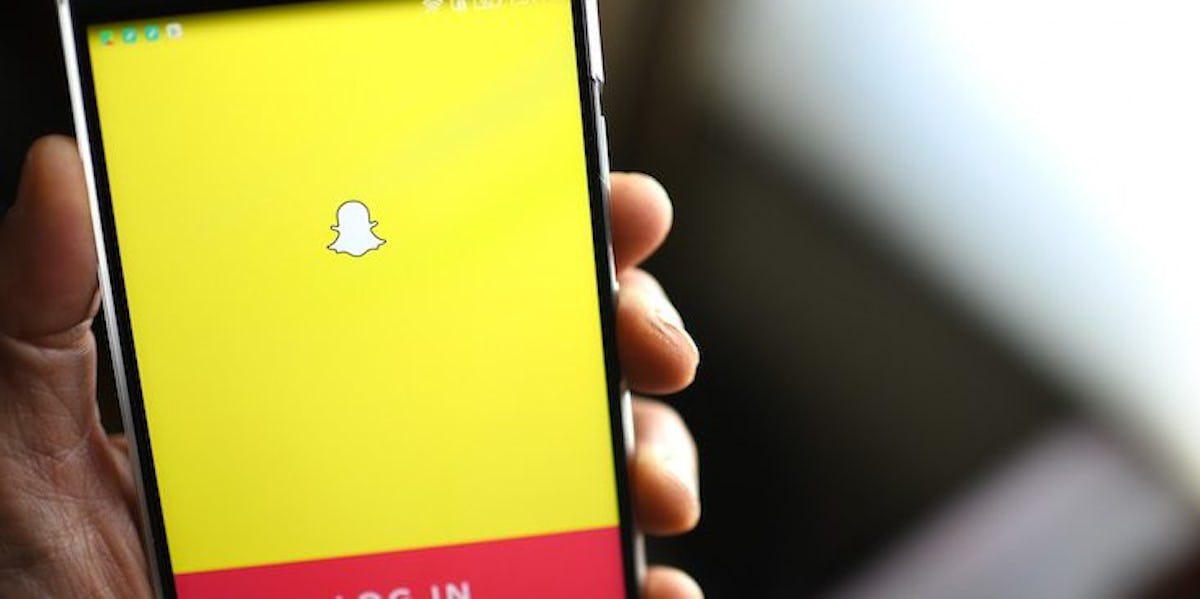 Snapchat's World Lenses Help Your 3-D Bitmojis Come To Life, Here's How
ROBYN BECK/ Getty Images
By now you've probably heard the cool news that Snapchat is incorporating augmented reality into their app by way of 3-D Bitmojis. The new 3-D Bitmojis work with Snapchat's World Lenses — which many hadn't actually known the name of until today — and work with your rear-facing camera (but more on that later). If you are one of the people breaking your head trying to figure out what World Lenses are on Snapchat, don't fret. You're not alone, and I have you covered.
You know those really cool filters on Snapchat that allow you to add barfing rainbows, clouds, little stars, and other cool effects to the room you're in? Well, those are World Lenses! This feature first came about in April 2017 with the goal of bringing AR to the social media app. People automatically gravitated to using the hilarious lenses to bring the 3-D experience to their everyday lives.
World Lenses are very easy to use, which makes them even more popular. All you have to do is use your rear-facing camera and hold onto the screen (like you would of you were using a selfie filter), and a lens carousel should pop up with all of the AR lenses. Like regular selfie filters, World Lenses typically change on the daily basis. See a video of how they work below.
Snapchat has decided to kick their AR up a notch by introducing 3-D Bitmoji World Lenses. The 3-D Bitmoji Lenses — which are already available on most iOS and Android phones — allow you to bring the avatars you created on Bitmoji to life on Snapchat. Like with any World Lens, you use your rear-facing camera to film or photograph your Bitmoji in action.
Point your camera in any direction and place your Bitmoji on any surface around you. You can make your mini "you" bigger or smaller, and even make it walk around. It's honestly pretty fun. Because the 3-D Bitmojis are new, there are only five lenses available: one with a water cooler, one watching a movie, one playing guitar, one drinking coffee, and one doing yoga. I'm sure they'll continue to change as the weeks go by.
These Bitmoji lenses might dethrone the dancing hot dog as the coolest lens, but we'll have to wait and see. While we wait for the world to update their Snapchat apps and decide whether they like this new feature or not, we can be the coolest ones out of our friends and send them awesome mini movies using the new feature.
If your Snap app is updated, you're ready to start filming funny little videos to send to your friends. And if you have iOS, you can use the Multi-Snap feature to send videos that are longer than 10 seconds. Think of the possibilities! You can annoy your friends personally, or send the artwork you create directly to your story.
Now you can use AR on Snapchat without spending an arm and a leg on the upcoming iPhone X, which is going to offer users the option of using Animojis. Animojis is a new iOS feature recently announce at the Apple keynote in Cupertino, California. The new feature will allow iPhone X users to send emojis with their facial expressions to whoever they want. A pretty cool concept right? Well, owning an iPhone X will set you back $999, so good luck with that.
If you don't want to spend an absurd amount of cash on the new iPhone to use AR, you can just download Snapchat and Bitmoji. They are far cheaper than the iPhone X and you can just delete them when you're over it, or when you need more storage on your phone.
Check out the entire Gen Why series and other videos on Facebook and the Bustle app across Apple TV, Roku, and Amazon Fire TV.