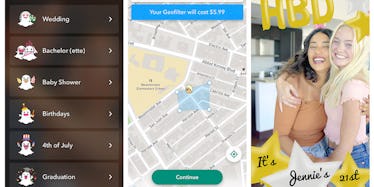 Snapchat Is Finally Letting Us Make Geofilters On Our Phones, So Get Creative
Snapchat
Ever wanted to make a fun geofilter for a party but couldn't figure out how to do it? Well, making Snapchat geofilters just got so much easier, according to Mashable.
In case you never were able to figure it out, to make a geofilter, you used to have to go on the Snapchat website and work it out from there.
But Snapchat updated the app on Wednesday, June 28, so that you can design them within the app itself.
This is a serious game changer. Get ready to see a whole lot more geofilters at all your upcoming parties and events.
I mean, you can just go ahead and make one right now for your apartment. Why not? Go crazy!
Well, there is one small catch. Making a geofilter on the app will cost you $5.99. So I guess you should take a minute to think about it before making one for your apartment and your office and your favorite park bench.
Snapchat makes it really simple for you to design one, if you're like me and are just really not visually creative.
When you go to make an "on-demand geofilter," it asks you what the occasion is for the geofilter. Options include a wedding, birthday, Fourth of July celebration, graduation, and more.
From there, it gives you design options based on the type of event.
After you design it, you select the location and the time period where and when the filter will exist. When you're all done, you pay for it and submit it to Snapchat for approval. The approval usually takes one business day, so make sure that you plan ahead for your Fourth of July party.
Honestly, this is a pretty sweet new update, and I have a feeling it will definitely lead to a ton more geofilters at every upcoming event.
Get your creative juices flowing, it's time to geofilter.