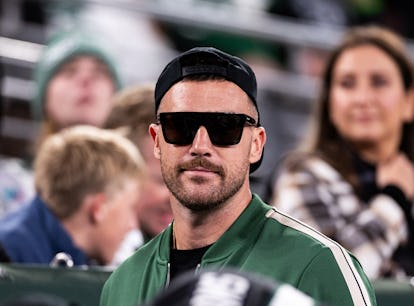 The Travis Kelce Effect Is All About Shooting Your Shot In A Big Way
Travis Kelce's successful bid to win over Taylor Swift — via his attempt at a friendship bracelet-themed meet cute — is inspiring romantics on TikTok to shoot their shot. After one hopeful single made a boldly public video on Oct. 14 to ask out a fellow creator, Twitter and TikTok coined the new dating strategy the "Travis Kelce Effect." Here's why the flirtatious move got its new moniker.
A quick recap: Traylor's love story began when Kelce spoke about Swift on his podcast in July after watching her perform at the Eras Tour. He didn't get a chance to meet the singer pre- or post-concert since she was on vocal rest. "I was a little butthurt I didn't get to hand her one of the bracelets I made for her," Kelce said — the bracelet had his phone number on it.
The Chiefs player didn't give up, though. On Sept. 21, he extended an invitation to Swift while on The Pat McAfee Show. "I told her, you know, 'I've seen you rock the stage in Arrowhead [Stadium], you might have to come see me rock the stage in Arrowhead and see which one's a little more lit.' So, we'll see what happens in the near future," he said. Days later, Swift herself showed up to watch Kelce play in Kansas City, and the rest is history.
Though it took some time, Kelce's attempt to get Swift's attention worked, inspiring fans to recognize the power of putting yourself out there. On Sept. 25, a day after Swift's first appearance at Arrowhead, former NFL player Matt Leinhart took to TikTok to send a message. "PSA to everyone: SHOOT YOUR SHOT," he said alongside a video of Swift and Kelce together.
TikTok seems to be taking that message to heart. On Oct. 14, a TikToker (@jakesacl) posted a now-viral video to ask his internet crush on a date. "Hi Emily, I'm Jake. I moved to New York last week, and this week I have a black tie rooftop Gatsby party that I need to go to, and I need a plus one," he said. "I thought it'd be cool if you go with me ... It sounds super unique, and I think it's gonna be a lot of fun, so if you think it's gonna be a lot of fun, let's make it happen."
He also encouraged people who watched the video to tag her, Emily Billings (@isaidwoahhhhh), in the comments section. Billings has over 260,000 followers and plenty of viral videos, so her notifications were understandably already crowded. But this request managed to get to her.
On Oct. 15, she duetted the video, captioning it, "my mentions were blowing up and this 10000% deserved a video response." In her video, Billings agreed that the invited sounded "enticing," and ended it with an encouraging note: "Jake!!! send me an ig dm."
While TikTok's still waiting for an update from the Gatsby-themed party, the whole interaction prompted the comments section to compare it to Kelce's grand gesture. One commented, "Shooting his shot publicly! I love the Travis Kelce era! Go for it!" Another wrote, "i love that travis kelce is setting the standard now." Fans on Twitter also shared the moment and showed their support. "The #TravisKelce effect 👏 👏 done right," one account (@NYGirl5757) tweeted. A Swift fan account (@ThrowbackTaylor) added, "'travis kelce effect.'"
Another fan hoped that the Kelce brothers would talk about the video directly, tagging their joint podcast. "@New Heights we need this featured on the podcast Travis Kelce effect."
Though Kelce hasn't yet addressed his impact on dating culture, the proof is in the TikToks.