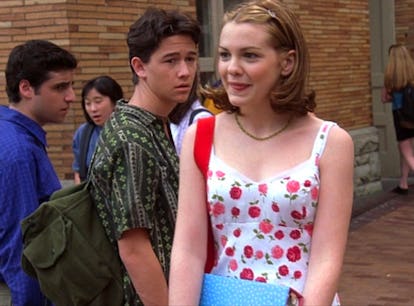 TikTok's "Thank You, More Please" Challenge Will Upgrade Your Dating Life
The universe is listening.
Ghosting, breadcrumbing, and benching are all realities of dating, so it's not really a surprise that romantic optimism is in short supply. It's something that Lily Womble, Brooklyn-based dating coach and former matchmaker, sees a lot in her clients. Luckily, she has a solution called the "thank you, more please" challenge, which goes a little something like this: First, start paying attention to little glimpses of hope — any sort of proof that dating isn't inevitably terrible. Second, start thanking the universe and asking it for more.
The proof doesn't have to be drastic. In other words, don't wait for an impromptu flash dance straight out of a rom-com to start trying this out. Instead, look out for tiny things, like having a cute barista take your order or seeing your gym crush in a workout class. As Womble tells Elite Daily, the "thank you, more please" challenge is about "gathering evidence that what you want exists." (There's also a 2010 film titled Happythankyoumoreplease, but it's unrelated to Womble's concept.)
Once you pick up on these pieces of proof, acknowledge them aloud to attract more good energy. "When you say something out loud, your brain hears it differently than just a thought rambling in your head," Womble says. This method of "hope building" opens you up to the possibility of romance, especially if your brain is stuck in protection mode — not allowing you to believe in love for the fear of getting hurt or disappointed. "Most of dating is about mindset," Womble adds. This technique puts you in a more optimistic headspace, making it easier to find what you're looking for (and accept that you deserve it).
Womble brought the concept to TikTok in August, but she first came up with it a couple of years ago. "At the time, I was experiencing some hopelessness in business, specifically," she recalls. "I thought, 'There has to be a way that I can get grounded in possibility and hope.' So, for a week, when something would be going right for me, I tried to focus on that." She realized this mindset shift could probably help her clients too, so for the past year, she's been encouraging them to practice it in their dating lives.
Now, the #thankyoumoreplease hashtag has over 1.7 million views on the app, and plenty of users are discussing how it's changed their lives. Its effects aren't limited to romance. "Been doing this for a few weeks now with anything that brings me joy, people, or excitement! Brings a thrill! And awareness!" one person commented on a video. Womble says, "My favorite comments are the ones that are like, 'I didn't believe you, but I did it anyway, and it changed my life.'"
TikTok quickly labeled this challenge as a form of manifestation — and although Womble doesn't use that word in her coaching, she doesn't mind it being applied. "I call it a co-creation, which is a version of manifesting," she says. But it's less about imagining your desired reality, and more about finding IRL proof that what you want is, in fact, real. "Co-creation with the universe is creating what you want by acknowledging that it exists and then asking for more of it," she adds.
Womble notes that this method is more quantifiable than some other forms of manifestation. "I'm very type A, and so I wanted something that I could measure," she explains. By noting every piece of evidence that the love you want is out there, you're able to reframe your dating outlook. That not only makes it easier to believe in love, but it also opens you up to more "aligned opportunity," which puts you in the right spot to meet your person. Not bad for four monosyllabic words.
Next time you see a small sliver of hope, take it as a sign that the love you're looking for does exist — if you keep putting yourself out there, that love could be coming your way.