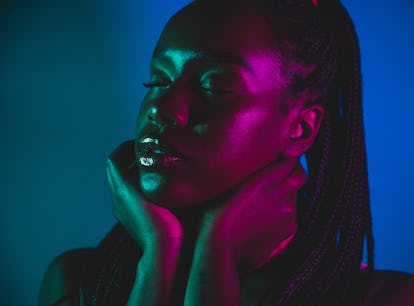 Here Are 6 Steps Toward Manifesting The Relationship Of Your Dreams
Repeat after me: "I radiate love."
LeoPatrizi/E+/Getty Images
If you want to fall in love at some point in the future, learning how to manifest a relationship can be incredibly powerful. Whether or not you consider yourself a spiritual person, manifestation — a practice that involves letting go of negativity and embracing positivity in order to bring good things into your life — can help you feel good and be proactive about going after what you want. "It's about deleting the old conditioning, limiting beliefs, and toxic environments and people that hold you back," says Mia Belle, certified life coach and success coach. From there, you make the active decision to "shift the focus back to love, joy, [and] gratitude." Once you're in that sweet spot, you're primed to attract happiness, peace, and yes, even love.
Manifestation is similar to the law of attraction: Whatever you put into the world, that's what you get back. So, if you want to receive love, you have to put love out there into the universe, too. There are plenty of ways to do that, ranging from repeating affirmations to using crystals (more on all that and more below). It's all about having the right attitude, staying grateful, and practicing an open-hearted approach to life.
So, want to manifest a relationship? Belle and other experts break it down into six steps.
Experts:
Mia Belle, certified life coach and success coach
Xandrine Aguilar, a manifestation and empowerment coach
Maria Concha, manifestation coach