Everything I've Learned About Love (So Far)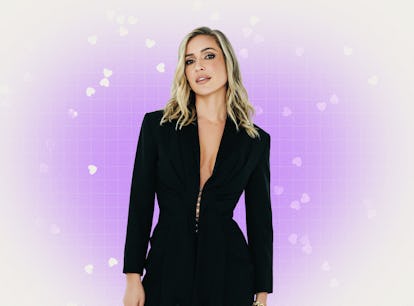 Kristin Cavallari Is In Her Single Era & Ready To Talk About It
"I'm not going to call out people I've dated by name... I don't think."
As a 17-year-old Kristin Cavallari once said on Laguna Beach, "What happens in Cabo, stays in Cabo." The catchy one-liner may or may not have been the best piece of hookup advice, considering the trip culminated in a dramatic fight between Cavallari and her then-boyfriend Stephen Colletti. But the now-36-year-old has grown a lot since then — and with her new podcast, Let's Be Honest, she's sharing her hardest-earned lessons and biggest hot takes about relationships, romantic or otherwise.
After splitting from ex-husband Jay Cutler in 2020, Cavallari, who now lives in Franklin, Tennessee, reentered the dating pool for the first time in 10 years. It looked different than what she was used to: DMs, for one, have become a flirting go-to. "That's how I've met a lot of people I've gone on dates with," she tells Elite Daily. "It's like a whole new world."
But in some ways, this new era is more of the same — the press has been paying attention to Cavallari's love life since she was a teenager, and they still haven't gotten enough. "The only way I've been able to handle the last few years is by not commenting on anybody [I date]," the Uncommon James founder and CEO says. "I decided there's just no point in saying something until I'm in a serious, committed relationship." So far, she hasn't found that person.
On Let's Be Honest, which launched Sept. 12 through Dear Media, Cavallari plans to get into the nitty-gritty of dating, sharing personal stories and inviting guests like Vanderpump Rules' Stassi Schroeder and The Bachelor's Nick Viall to give their input. Here, Cavallari shares BTS details of her podcast, the role manifestation plays in her dating life, and how her definition of love has evolved.
Elite Daily: Your new podcast, Let's Be Honest with Kristin Cavallari, is out this week. You said on IG there's going to be a "heavy focus on relationships and dating." What are you most excited to talk about?
Kristin Cavallari: I want to have a lot of men come on to give us some insight into their minds. I really love having the male perspective for women out there. It's one thing for us girls to sit together and be like, "Oh, this is why he didn't text you back." We're just pulling stuff out of thin air. Having men shed real light on what they're thinking and feeling can be extremely beneficial.
ED: Your love life has been a source of public interest since the Laguna Beach days. What has it been like navigating that level of investment from fans and the media, starting at such a young age?
KC: It was weird at first. I don't know any other word for it. Now, as an adult, I have a good handle on it, but I don't think it's something I'll ever fully embrace.
I've sort figured out how to avoid the press finding things out. There are ways around it, especially because I live in Franklin, Tennessee. I don't deal with paparazzi, which has been a lifesaver.
ED: Now you have a podcast that focuses on the subject from your POV, do you see that as your way of taking back that narrative?
KC: Yeah, I do. Since I was 17, my voice and my image have been controlled to a degree, whereas this podcast is 100% me. I get to really say what's going on.
Hopefully I'll be able to shed some light on the rumors, too. I'm not going to call out people I've dated by name... I don't think. I haven't yet, anyways. I want to be really respectful of everyone who's been in my life, while also being very open and real about my past.
ED: In June, you told E! News that dating is "really not important to me right now." Are you dating much at the moment?
KC: I've been single for three-and-a-half years, and I've gone on so many dates. I've had moments of wanting to find a partner, and I've also had moments of loving being single. It's been this up and down — the ebbs and flows of dating.
I haven't really dated in the past few months, which has been kind of nice. It has not been top of mind. I'm not putting any pressure on it right now. Also, how am I going to meet someone? I need to leave my house to do that. My friends are like, "Well, maybe you should go do stuff." I like going to dinners with friends, but I still want to be in bed by 10, so maybe that's my problem. But I feel like it'll happen when it's supposed to happen. Maybe I'll have to ramp up the dating a little bit if I'm going to be talking about it. I've got to get my material.
ED: You've mentioned the "ebbs and flows of dating." Do you have tips for single people who feel fatigue when looking for a partner?
KC: Take breaks, 100%. For a few months, I went on so many first dates — just date after date. It was so fun. But after a while, I was like, "This sucks. I'm not meeting anyone I like." At that point, taking a break can help you feel reenergized. Then you're excited to date again.
My friends and I call it the pipeline. One of my girlfriends said, "The more people you have in the pipeline, the more are coming your way." When you're actively in the dating world, you get more and more dates. The energy you're putting out attracts more people. But when you're out of it, nothing is coming your way.
I will not settle. It's probably why I'm still single.
ED: Are you into manifesting when it comes to relationships?
KC: I really am. The key is getting rid of blockages. That's why you're not attracting the right things. Manifesting comes from our subconscious. So, getting in touch with yourself, doing shadow work, really working through your childhood — that all helps you attract what you want.
ED: Are there any red flags or "icks" you look out for when dating?
KC: The No. 1 thing is when someone doesn't take accountability. If you're going to blame your exes for everything, that means you're the problem. It's a matter of time before that type of behavior reveals itself, but you really get to know someone when you have the first tough conversation with them. If they gaslight you or turn things around on you, it's a major red flag.
ED: When you think of your ideal relationship, do you have a favorite celebrity couple that embodies that?
KC: Not one that comes to mind. Hollywood is a funny thing because I've found that people are always the opposite of their image. I think these perfect couples actually are the ones who have the most problems. That's my hot take.
ED: When it comes to relationships, how do you rank compatibility versus chemistry?
KC: Oh my God, this is my favorite conversation. Personally, I won't settle until I have both. You need someone you're compatible with in your day-to-day life for a lasting relationship, but I also want that spark, that passion, that fire. I've gone on so many dates with great guys, but if there's not chemistry, I'm not interested. I've had friends tell me, "You should give them another chance." But if it's not there, it's not there. I don't think it can grow. I will not settle. It's probably why I'm still single.
I've always gone for chemistry, but in my past, a lot of times chemistry meant toxic. You need compatibility, too. That's the learning process I've been going through in the last few years — getting out of that toxicity and figuring out why I was attracting it. Ultimately, I think it was just a reflection of how I felt about myself.
ED: What's your best piece of dating advice?
KC: Just do it. Go out there, have fun, date everybody and anybody. That's how you ultimately learn what you want.
ED: What about breakup advice?
KC: It's really important to be honest with people, as hard as that can be. If you just fell out of love with someone, as unfortunate as it is, that happens. Instead of lying and trying to soften the blow, it's better to be upfront. People can't argue with your feelings.
ED: And finally, what does love mean to you?
KC: I don't think I knew what love was until the last few years. We've heard this a million times, but the only way you can accept love from someone else is if you already love yourself. The most important thing is your own journey of self-love. For the majority of my life, I had such a void. Hopefully, now I can attract a really great guy because I've done the work to get rid of the toxic men in my life.
This interview has been edited and condensed for clarity.