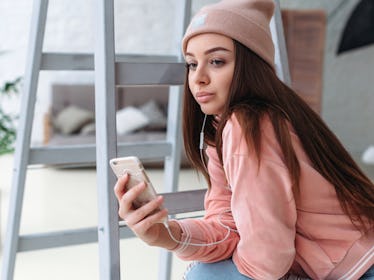 The 3-Step Game Plan For When Your Crush Ignores Your Text
To be blunt, when someone doesn't reply to your text, it sucks. And when you have feelings for that someone, it sucks a lot more. I don't know about you, but the first thought I have whenever my crush doesn't reply to my text is, "Ugh, they hate me now. It was nice while it lasted." Rational, I know. But if you don't have a mini freakout after they ignore your text, do you even like them? I'm kidding — mostly.
The truth is that it's completely normal to second-guess yourself after sending a text that goes unanswered. Nicole Richardson, licensed marriage and family therapist, previously told Elite Daily, "When we feel ignored, it is easy for us to allow our anxiety and our imaginations to run wild and invent all the things that could be going wrong."
"Brené Brown calls this 'story-telling.' In the absence of information, we often make assumptions and more often than not, those assumptions are hurtful and negative," Richardson added. So, before jumping to the worst-case scenario, it's a good idea to take a beat — though that's easier said than done. "When our partner does not respond to us, it is easy for us to succumb to anxiety and hurt and start to story-tell. This storytelling often does more harm both to us as well as to our relationship," she explained.
So how can you stop this cycle before it starts? There is no one-size-fits-all way to curb overthinking. But, before letting your texting anxiety get the best of you or blocking their number, try these three steps.
Experts:
Nicole Richardson, licensed marriage and family therapist
Meredith Prescott, LCSW, tells Elite Daily
Dr. Gary Brown, Los Angeles-based licensed psychotherapist
This article was originally published on