Everything I've Learned About Love (So Far)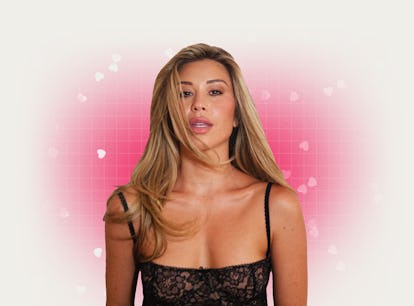 Gabby Windey Feels "Set Free" After Going Public With New GF
"She gives me so much confidence and love for myself."
Andie Jane
With her iconic one-liners and memeable facial expressions, Gabby Windey has been making fans laugh since she first appeared on Clayton Echard's season of The Bachelor in January 2022. A year and a half and one Bachelorette run later, Windey's strong sense of self is part of why she was so determined to go public with her relationship with comedian Robby Hoffman, which she announced on The View on Aug. 2.
Windey's romance with Hoffman is the first time she's openly dated a woman. "I never wanted to feel like I was living my life in hiding," the 32-year-old tells Elite Daily. "I was really conscious of always being true to myself." When she shared her new relationship on TV, she wasn't necessarily focused on coming out. "I felt like I literally had to do this so we could go on living our lives."
Their love story began IRL in the spring, when they met outside Semi-Tropic, a bar in Los Angeles. "It was like kismet," Windey says. Instantly, she knew they had a connection. "I realized it was romantic right away. She's very forward, so there was no really mistaking it," she says. "Chemistry and love don't lie."
From there, things moved quickly. "She asked me to be her girlfriend within two weeks," Windey recalls. The couple just celebrated their three-month anniversary — 90 days that have been blissfully ick-free for the Dancing With the Stars alum: "I used to be so quick to ick, and people said, 'The right person won't make you ick.' It's true."
Ahead, the former Bachelorette and self-proclaimed "girl's girl" gives all the details on her new relationship, shares her thoughts on the Internet rumors about her love life, and reflects on how her time on TV changed the way she approaches dating.
Elite Daily: Congrats to you and Robby! You decided to go public with your romance on The View. Can you walk me through that day? How you were feeling?
GW: I wasn't nervous, just ready to do the damn thing. Everything felt right. My girlfriend was so nervous — way more than me. We went out for dinner the next night with one of her friends, and he said, "Robby, you were so nervous." I'm like, "Why were you so nervous, and why didn't you tell me?"
But when I watch her comedy live, I get really nervous for her, too. I think it's just when you care about someone so much and there are high stakes, you feel for them.
ED: What made you decide to take that step?
GW: There's only so much life you can live in private. We were out in our personal lives, and I was getting DMs saying "I saw you holding hands with a woman." She's recognized a lot in the queer community, and I'm recognized a lot from Bachelor and Bachelorette. With that comes curiosity. If I was dating a man, I would never have to hide it or be worried about going out to dinner. And I'm not going to make her feel like I'm trying to hide her, because what kind of foundation does that set for a relationship? I love her, so I want to treat her with respect.
ED: Has your relationship changed at all since going public?
GW: Yeah. We didn't realize how much of a weight was going to be lifted, but even just PDA feels so much easier now because everyone knows. We don't have to explain anything. We can finally be ourselves. It feels really good.
This relationship is like a weighted blanket. It takes all the anxiety away from everything.
ED: Has Robby watched your season of The Bachelorette?
GW: She watched bits and pieces as it was airing, and now she'll go back and watch YouTube clips. I'm like, "Enough." It's like nails on a chalkboard. I'm thinking, "Why do I sound like that?"
When people watch your work from when you were down bad in this Bachelor bubble, it's kind of cringe and embarrassing. But she's so proud of me, so it doesn't even matter.
ED: There's been a lot of interest in your love life ever since you went on The Bachelor in 2021. For a while, there were rumors about you and Jersey Shore's Vinny Guadagnino post-DWTS. How do you feel about all that speculation?
GW: It was fine. Vinny and I were both definitely stirring the pot, but I will point fingers at him because he started it. But I'm always here for a good time. People take social media so seriously, but it only exists at your fingertips on your phone. It's not tangible, so who cares about a comment? Somebody commented on my socials once "Messiest Bachelorette ever." I'm literally not even that messy. It's all just fun, and what anyone thinks about me is great. At least they're thinking about me.
ED: What did you think of fans rooting for "Gay-chel" — aka you and Rachel ditching The Bachelorette and falling in love with each other — back in the day?
GW: I think everything's great, even almost prefacing my own storyline. I know it was a joke, but it all comes from somewhere. Rachel's straight, though.
ED: Has social media led to any other rumors or speculation about your dating life?
GW: I think people had a lot of misconceptions about my love life until recently. But now, I don't really know what other people think about me. With social media, you're reaching millions of people. As humans, we can't even conceptualize that. Now, some people very outwardly don't agree with me, which has almost given me the liberty to do everything else they might not agree with. I've been set free. People are going to hang around if they want and will leave if they don't. You just stop giving a sh*t about what people think, and it's very liberating.
ED: Now that you're in a happily committed relationship, what's your best piece of relationship advice?
GW: You can't be afraid to be embarrassed in a relationship. We're all so scared to say something that might be embarrassing, like, "Oh, I was jealous when you did this" or "I'm just really insecure today, and I need more love."
If you lead with vulnerability, you;ll always have connection. You really have to shed your ego and not care what the other person thinks. Trust that they're going to love you no matter what, or else they're not your person.
ED: Do you have any tips for shedding your ego and being more vulnerable?
GW: Magic mushrooms and therapy. Practice makes perfect. It's also about finding a good partner. Robby's the most reassuring and supportive, and I feel so safe with her.
ED: What do you think is your strength as a partner?
GW: You'd have to ask Robby. I'd like to think I'm perfect. She thinks the world of me, but I also get good, constructive criticism from her. We're very generous with our love. It's not just that I love the way she loves me, but it feels so good to love her, too.
ED: Is there one love language you identify with the most?
GW: Robby and I talk about it a lot — lesbians love to talk about attachment styles and love languages. I know it's a tool to help you understand yourself better, but it's so hard to pick just one category. I think all ways of showing love are meaningful. Anytime I know she's thinking about me, I'll take it.
The only love language I don't really care about is gift-giving, but I feel like sometimes that fits into acts of service. Robby is really thoughtful with our monthly anniversaries, and she just got me these chunky hoop earrings from Mejuri for our three-month.
ED: What's a fear you used to have about dating or relationships that you've overcome since your time on The Bachelorette?
GW: The Bachelorette really taught me how to ask for what I want. It's taboo in dating culture to go in with guns blazing. Everyone's so afraid to ask for a real relationship. Women especially have been told and taught that they're not allowed to do that.
We try to fix it by having a roster and acting like men, but I really think that's just internalized misogyny. People want connection and a deep emotional bond, and it's OK to ask for it. We've been gaslit by dating culture. We're trying to play it cool. I'm not f*cking cool. I just want to be myself.
ED: Besides giving up on the idea of playing it cool, what does love mean to you?
GW: It's safety. I've never felt this comfortable in a relationship. I didn't feel a lot of safety growing up, so I don't really know what it's like to be accepted all the time, no matter what. This relationship is like a weighted blanket. It takes all the anxiety away from everything in my life.
She gives me so much confidence and love for myself. She helps me be more me. It's such a light feeling. I can literally go to war with her on my side.
This interview has been edited and condensed for clarity.