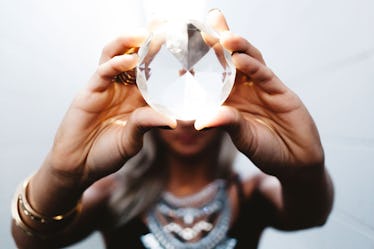 Use These 16 Crystals To Banish Bad Breakup Vibes And Get Your Mojo Back
Rhodonite is seriously ✨magical✨.
Crystals are magical, beautiful, and feel like a good luck charm just for you. If you've bought a crystal or two, chances are they're a gorgeous fixture of your Instagram-worthy coffee table tableau, but crystals can be so much more. Each crystal has a purpose and a use, aside from being nice to look at. They can enhance your creativity, productivity, and energy, so of course, there are also crystals for heartbreak to help you deal with missing your ex. When you're reeling from a relationship ending, you might reach for the remote, a tissue, or a glass of wine — but consider reaching for specific crystals for breakups, too.
Elite Daily spoke to Yuri Gomez, shop director of the holistic healing center Liberate Emporium in Los Angeles, about the best crystals to help you process a breakup, as well as how to use crystals (especially if you're a crystal newbie). Gomez says to hold your crystal, sit with it, and meditate or be thoughtful. As she explains, "Let the crystal take you on a journey, think of your intention or reason for using it, and allow energy to flow and pictures and visions to arise." She recommends doing this in the morning for anywhere from five to 20 minutes, to set the tone for your day.
Per her expert advice, here are 16 crystals for heartbreak, such as rhodonite and malachite, that each have specific powers and properties to help you through every step of dealing with a breakup.
With this shopping list of crystals, hopefully your breakup process will be easier and be a bit less painful. When you are choosing your crystals, keep in mind there are also so many different sizes of each crystal, and some can be polished or some can be raw, so how on earth do you pick one? Gomez explains, "Choose the crystal you're most drawn to instinctually." So in a way, your crystal chooses you! Whatever stone you're drawn to will work with you to make you shine bright like... well, like a crystal.
Expert:
Yuri Gomez, shop director at Liberate Emporium
Editor's Note: This story has been updated by Elite Daily Staff.
This article was originally published on