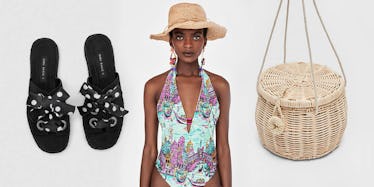 Zara's Huge Summer Sale Is Happening RN, So Excuse Me While I Throw My Money At This Sale
Zara
I really, really don't want to write this, because I know it's going to make me shop, but I consider it my personal duty to alert you all to Zara's 2018 summer sale. I'm talking discounted swimsuits, dresses, slides, wicker baskets — every piece of clothing you've liked on Instagram this past month is officially on sale, and I'm not exaggerating at all, thank you very much.
Zara's bi-annual sales are always good, and their summertime sales tend to be the best of all. Since a summer wardrobe often consists of trendier items — I love my bedazzled slides, but they're not really a keep-them-for-life, pass-on-to-my-daughter type of piece — not having to splurge to get the look is a major win.
The only catch about this otherwise magical sale? Zara is pretty vague about the start and end dates of the sale, so the only real solution here is to start Adding to Cart ASAP before it ends. The sale is both online and in-store, so if you live near a Zara, I suggest you mosey on over. However, if you're in NYC, please stay home and shop online, because all Zara locations will be personally raided by yours truly. There is no shame in my bargain-hunting game.
If you're still at work and can't get to shopping right this minute, I've taken the liberty of gathering some must-haves here for your lusting pleasure. The following are a small collection of new products you will be seeing me rock on Instagram shortly.
To begin, let's start off with this two-piece set, also known as "The Cutest Thing I've Ever Seen." The Embroidered Bralette Top ($25.99, originally $45.90, zara.com) and Embroidered Shorts ($25.99, originally $39.90, zara.com) are the perfect example of expensive-looking items available for cheap via this sale. Please note the intricate beading and embroidery! The set looks great together, but each piece could also be worn separately to maximize wearability. Did I mention it comes in black? Because yes, it comes in black.
In case you're unaware, the following are some huge trends for street style summer 2018: espadrilles, slides, lace-up, and polka dots. Has one shoe ever summed up so many trends as flawlessly as these Espadrilles With Polka Dot Laces ($35.99, originally 49.90, zara.com)? I think not. Summer is hardly the time to put up with uncomfortable shoes, so stylish sandals like these are a definite must.
Who doesn't love a fun statement bag for summer? This Raffia Basket ($25.99, originally $39.90, zara.com) is way more in season than whatever backpack or tote you were sporting this winter. The picnic basket-inspired style is sweet and charming, which adds a cool contrast to a dressed-down look. Straw, wicker, and wooden bags are a huge trend this year, so consider yourself truly blessed that Zara has chosen to include them in this sale.
Were you hoping for a basic denim miniskirt? I'm sorry, that's not what we're here to discuss today. Instead, feast your eyes on Zara's Contrasting Topstitch Skirt ($25.99, originally 39.90, zara.com), aka the coolest take on a denim skirt this season. The bright white, frayed ends and dark stitching are so bold, yet this could still be worn with any T-shirt for simple, stylish look.
What's that? Zara is only charging $13 for the most perfect set of statement hoops I've ever seen? I cannot fathom what we did to deserve this, but thank you, Zara. The Combined Hoops ($12.99, originally $19.90, zara.com) are gold and white and utterly adorable. Plus, they're a front-facing hoop style, so they don't get lost in your hair.
I'm sorry, but if you don't buy this Multicolored Braided Bucket Bag ($59.99, originally $89.90, zara.com) for Pride, then what are you even doing? Is that mean? It's called tough love! The stunning colors, the woven exterior, the fringe-y bottom? You need this. I'm done talking about it.
Oh, hello, stunning summer sundress! The Smocked Check Dress ($35.99, originally $49.90, zara.com) is yet again a fine example of Zara combining multiple hot trends into one adorable garment. An off-the-shoulder neckline, a ruched middle, and a breezy skirt make this the summer staple I didn't know I was missing. Plus, the colors are perfect to pair with my Fenty Beauty Killawatt Foil Highlighter in Mimosa Sunrise/Sangria Sunset ($36, fentybeauty.com). Just saying.
There are a ton of bathing suits in the sale, most of which are brightly patterned one pieces. My favorite, you ask? The Gondola Print Swimsuit ($29.99, originally $49.90, zara.com), which is basically a vacation in a swimsuit. The cut is flattering, the print is dreamy, and as the picture above shows, it looks great with that Multicolored Braided Bucket Bag I already decided you're buying. Thank me later!