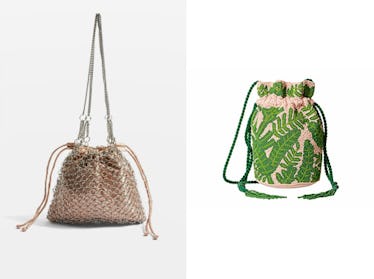 These Playful Drawstring Bags Are So Good, No Other Summer Accessories Are Needed
Topshop/ Sam Edelman
If you like to get a head start on figuring out your seasonal wardrobe based on the styles du jour then maybe your closet is already brimming with tiny sunglasses, lilac, and dad sneakers. Leave room for one more thing because summer 2018 trends are continuing to roll in and an ace new carryall is on the list of must-haves.
Let me preface this by saying that if you're someone who needs a bag that can hold as many random trinkets as that of Mary Poppins then this trend isn't for you. It's for those of you who like delicacy and playfulness and believe that all one needs for a day is their phone, keys, wallet, sunglasses, and chapstick. Drawstring bags, of which the clutch-sized variety are here in full-force, are kinds of fun in terms of how they can be embellished or decorated (sparkles! fringe! tassels, oh my!) but when it comes to space they're for the most streamlined of packers.
My favorite thing about this new class of bags is that they embrace the more outrageous side of fashion. Over-embellished isn't in their repertoire and velvet, beading, netting, you name it are all fair game. What's more, some of them are so eye-catching and statement-making that they can even replace your jewelry on occasion, making them the most easy two-in-one accessory ever. Pair them with an edgy LBD for a night out or with jeans and a blouse for a casual brunch. Below, nine of the best drawstring bags to shop now.
All Your Buds
Who wouldn't want a bag covered in hundreds of tiny sequined flowers? Sounds like my idea of a garden party. This mini satchel also featured a chain strap and plain rounded shape. It's super '70s and super groovy.
What's Old is New
This looks like something Daisy Buchanan (or any other stylish '20s icon) might've worn thanks to its feather fringe, crushed velvet satchel, and tasseled drawstrings.
Dream in Color
Perfect for Pride Month and beyond, this rainbow bag doubles a mini bundle of happiness. It's one of those carryalls that renders jewelry unnecessary and packs a bright punch.
Linked Up
My favorite one of the bunch, this bag boasts a double layer design with linked metal circles serving as the outer textile. It's super modern and intricate and would elevate any outfit instantaneously.
To Be Transparent
Mesh rope bags are huge for summer so fans of the mermaid aesthetic, get excited. Why not wear the trend in mini form?
Welcome to the Jungle
I love a good frond—in real life, in tattoo form, you name it—so naturally I'm in love with this playful leaf-embellished bag. Headed on a vacation this summer? Take this with you and live your best OOO life.
Cousin It
Like the hairiest member of the Adams family but in miniature form. This fringy bag is perfect for fancier nights out thanks to its all-black-everything palette and satiny details. I'd rock it with a square-neck bodycon dress, strappy black heels, and some architectural statement earrings.
Metal Head
This back is such a 2000s throwback and I couldn't love it any more. Made from a chainmail-like material upon which the motif of a tropical grape sunset is printed, it's all kinds of kitsch and Lizzie McGuire. It would pair excellently with denim.
Sweet and Sour
This navy and yellow color combination is everything! The beads, the netting, the denim—it all comes together to create one summer perfect bag that will definitely turn heads. I'd pair it with shorts and a cool geometric top for a sleek minimal look.