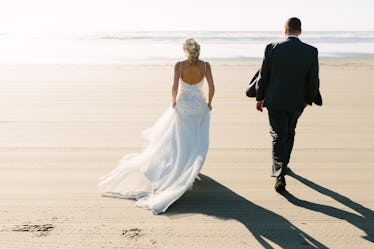 These 3 Zodiac Signs Are Most Likely To Have A Summer Wedding
If you've always dreamed of tying the knot on the beach or your ideal ceremony means flowers and sunshine — chances are, you're likely to have a summer wedding. Maybe you're a total summer person or you hate cold weather, so getting hitched in the summer will mean making some amazing memories. Summer weddings are the prefect place to bring all your friends and family together and have some fun in the sun. With gorgeous flower options, a bright, fresh color palette, and so much amazing produce in season — there are tons of reasons why a summer wedding could be for you.
Getting married is a sentimental and exciting way to celebrate your connection in front of all your loved ones. No matter the season, repeating your vows and committing to your spouse can be a totally memorable time. Although there's no wrong time to celebrate your love, it's totally common to have a dream season in mind for your wedding. And when unpacking your wedding preferences, it can be fun to see how astrology ties into how you want to tie the knot.
And if you've always seen yourself as a summer bride, you may be one of these three signs.