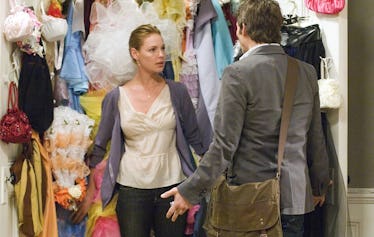 12 Movies That Will Get You In The Mood For Wedding Season
20th Century Fox
Summertime might mean long, lazy days and rising heat, but these warm months inevitably mean that a wedding or two or five is in your near future. People love getting married when everyone's schedules are a bit freer than usual, but this can also mean that the summer is exhausting for guests who have more than a few cocktail hours and dance floors to anticipate and nerve-wracking for engaged couples planning their big day. If you need to psych yourself up for white dresses and trim suits, you should look into movies about weddings to ready yourself for these ceremonies.
No rom-com is complete without at least one reference to a wedding, but only a special breed of film tackles the complex concept that is balancing distant family, interfering friends, and the pressure to have a picture-perfect wedding day. Most of these stories find a way to turn that stress into humor, which moviegoers have lapped up for decades. Whether you're a panicked bride à la Toula Portokalos or an anxious bridesmaid like Annie Walker, these films have relatable moments that will hopefully ease your mood before the special day rolls around.
Your next few weekends are probably packed with bridal showers, dress fittings, and bachelorette parties, but when you have a free moment, sit back with a full champagne flute that you swiped from last year's fanciest wedding and dive into some fictional matrimonial chaos. Read on for standout movie picks capturing these big days.