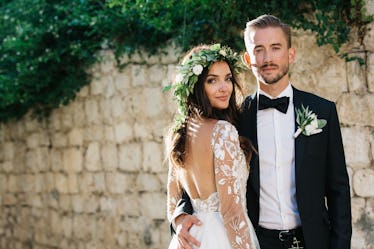 4 Reasons A Summer Wedding Is Right For You, Because Summer Lovin' Is A Blast
Congratulations! You're engaged. While knowing you're going to spend the rest of your life (hopefully) with your partner is pretty great and all, planning the actual wedding can be kind of stressful. You have to make a zillion choices from what to wear to when to have your wedding. Maybe you've always envisioned a pastel spring wedding, or love the idea of a cozy fall wedding, but there are plenty of reasons to have a summer wedding. After all, summer is a time to relax, take a vacation, and have some fun under the sun.
According to Weddingwire.com, the most popular months to get married are October, September, June, May, and August, in that order. This makes a lot of sense because during these months, the weather during those months is generally lovely, many people have vacation time, and there are also lot of three-day weekends. While more weddings during the summer means more competition when it comes to vendors, caterers, and venues, it could also mean more options to choose from when you're figuring out how to actually schedule the events during your wedding. Winter weddings generally mean you're limited to indoor spaces for both the ceremony and the reception; the summer gives you the ability to be indoors and outdoors — whatever you want. A summer wedding also means that you, your wedding party, and your guests won't have to cover up your fabulous dresses or suits with coats, which is reason enough for me to be all-in on a summer wedding. Read on for more reasons why choosing to walk down the aisle in the summer might be a great idea for you and your partner.