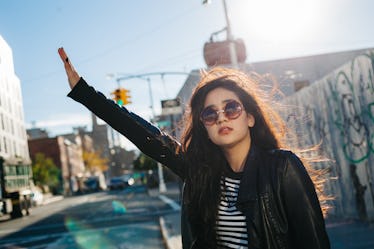 Your Weekly Horoscope Is Here & You're About To Be Busy This Week
If you were hoping for a week of rest and relaxation, postpone that for another one because your March 5, 2018 weekly horoscope wants you to keep moving. The astrological forecast predicts that you'll be charged with energy, ready to take on the world, and motivated to make sh*t happen. Stagnancy? Procrastination? That's so 2017.
We didn't step gracefully into March. We were flung in with full force, especially with the full moon in Virgo heightening our emotions last week. If you were feeling stressed out beyond belief, don't worry. Your spirit was undergoing some necessary remodeling. Now, you get to take the results of your inner-work and channel it into something amazing.
On Mar. 6, both Venus and Mercury will be moving into Aries, making us feel pumped up and ready for anything. Aries does not screw around. The ram of the zodiac sets its eye on something and stops at nothing until it's been achieved. You will feel this ambitious energy coursing through your love life, your career, and even your finances. Some signs will shot into the stratosphere, making them feel invincible.
However, we also have Jupiter going into retrograde on Mar. 8, which will force some signs to rely on their own volition rather than luck. Regardless, knowing that it was nothing but their own hard work that saved the day will make them feel so proud.
Aries
You're going to look and feel fabulous this week, Aries. Your first house of the self will be powered up by Venus on Mar. 6 as it enters your sign. You're going to attract opportunities like a magnet. You'll inspire people, making them want to work with you. This is an excellent time to go on job interviews, auditions, or participate in any type of networking event.
Taurus
There will be a lot of luck fueling your career this week, Taurus. It may seem like money is magically appearing in your bank account, like operations at work have never run more smoothly. Your 12th house of the spirit and the unconscious mind is all lit up by Mercury on Mar. 6, giving you a very direct and confident aura that will serve you well.
Gemini
You might spend this week bickering with your loved ones, Gemini. That's only because Mars is taking up space in your seventh house of partnerships, while Mars happens to be in fire sign, Sagittarius. You're going to feel passionate about your stances and it may make you feel like arguing. Keep this in mind as you navigate social territory. Try to think before you speak.
Cancer
The moon's north node is causing some mystical action in your 2nd house of money. This may fill your life with an overabundance of cash, pleasure, and opportunity. You have a lot of choices this week and you may feel tempted to waste time instead of use it wisely. With so much vitality powering your life, you should definitely focus on the long term.
Leo
Your philosophical ninth house will be powered up by Venus in Aries on Mar. 6, which will really motivate you intellectually. You'll feel hungry for knowledge, open to new perspectives, and ready to infuse your career with scholarly expansion. This is a great week to read some books, visit some museums, talk to some experts, and nourish that brain of yours, Leo.
Virgo
Venus enters Aries and your eighth house of reincarnation on Mar. 6. You're going to feel compelled to tend to messy aspects of your life that need renovating. You might organize your house, do your taxes, complete some side projects at work, and overall, get yourself ahead of the game. You thrive under this regenerative energy, Virgo, and you're going to feel refreshed.
Libra
Mars in Sagittarius is in your fourth house of home and family until the 17th, Libra. This can make your home feel like a disaster right now but it can also be an opportunity for you to concentrate all your energy on sorting it out. You could redesigning the place, spend quality time with your loved ones, or even throw a shindig that brings everyone together.
Scorpio
Even though finances may be rough right now, you're moving through it with confidence. Scorpio, you understand what's important in life, and it's not necessarily money. With your fifth house of fun and pleasure all lit up until the 20th, you'll be able to make the best out of any situation and find happiness in anything. Cling onto this talent of yours and let it guide you.
Sagittarius
Your fifth house of entertainment is energized by Mercury moving into Aries. You thrive under this fire sign energy, Sagittarius. This will energize your love life and power your social life. This is exactly when you feel most in touch with yourself. You should infuse your day-to-day activities with excitement, maybe coming up with lively propositions at work or even organizing a huge get together for your loved ones.
Capricorn
Home is exactly where you want to be this month, Capricorn. With how hard-working you are, you're probably going to bring the whole family much closer. With Venus moving into your fourth house of the home on Mar. 6, you're going to be a source of love and inspiration to all your loved ones. Make your main responsibility this week to help others in any way you can.
Aquarius
You'll feel motivated to cleanse your spirit this week, Aquarius. You need alone time to regroup and you welcome it with open arms. This is a great week to meditate, go on a few hikes, spend the hours journaling, drawing, or dreaming. This may seem like its unproductive but it's really the opposite. You're gathering your strength before you make your next move.
Pisces
This is a great week to concentrate on your career, Pisces. Mars is still in Sagittarius and it's going to motivate and inspire you to go the extra mile. Utilize your artistic skills in your projects, soften the workplace with your calming energy, and take one step at a time. It's when you're moving slowly and carefully, when you're truly living in the moment, that you thrive.