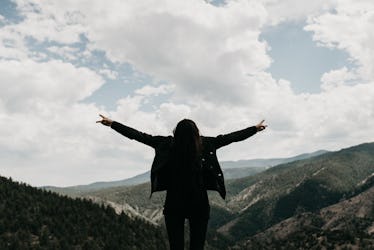 Your Friday The 13th Horoscope Will Help You See There's Nothing To Be Afraid Of
If the thought of the infamous Friday the 13th is already filling you with dread, let me be the first one to tell you that your dread is unwarranted. Truth be told, it's a fallacy that this day is defined by bad luck, and it's an unfortunate fallacy at that. When your July 2018 Friday the 13th horoscope is brimming with so much positive energy and whimsical magic, the superstitious dogma casting a shadow over this day is almost unforgivable.
July 13, 2018 will be anything but unlucky. As the universe revitalizes our world with a replenishing new moon in Cancer that contains the amplifying effects of a partial solar eclipse, you won't be able to ignore the powerful turning point this day presents us with. Because a solar eclipse always indicates change, transformation, and a brand new beginning, you can expect your Friday the 13th to bear rewards and surprises.
Astrological awesomeness aside, this day contains luck in and of itself. In fact, if you still believe Friday the 13th is a day to be feared, I'm afraid you've been lied to by the patriarchy. According to author Tanaaz Chubb, it was once a day meant for celebrating "the Divine Feminine" that exists within every spiritual being. If you ask me, that sentiment is beautiful and nothing worth dreading. Let's bring this belief back, shall we?
Aries
Home is not a place. It's a state of mind, and you've been away from it for too long. Now, you're finally understanding the shelter you've always needed, the love you've always yearned for. Find your safe place and linger there for a while. Your soul is regenerating; but first, you must rest.
Taurus
You've been feeling so many things, but you don't always know what they are. All the abstract workings of your heart are begging to be defined. The right words are floating to you. Your voice is cracking open like it never has before. Catch the beauty that tumbles from your lips, from your fingertips.
Gemini
Possessions mean nothing without you. Money means nothing without purpose. You can have everything and have nothing. You can have nothing and have everything. You're learning what you need in order to feel true. Shed what no longer has meaning to you. Declutter and reinvent your worth.
Cancer
You may often ask yourself, "Who am I?" Although there's pressure to do so, you never have to settle on one identity. You can reinvent yourself every morning, if you like. Or, you can alter yourself in some way that reveals a shade that has long remained hidden. Now, it's begging to be seen.
Leo
You are more than what others see on the outside. There's a whole universe within you, full of comets colliding and supernovas bursting. The material world is fascinating, but your soul is made of so much more. It's time to take a look at what lies within. It's been waiting for your visit.
Virgo
Everyone has a story. We may look like strangers on the outside, but there's always something to relate to within. The fear of connecting prevents an even more important story from being told. It's up to you to bridge the gap, to combine our stories into one. Sew us all back together.
Libra
You have had goals and dreams that you've tucked away. They haven't disappeared, although they're out of sight. Sometimes they come knocking at your door. The knock is growing louder and louder. It's becoming harder to ignore. Your dreams need you as much as you need them.
Scorpio
Your safe space is starting to feel more like a prison. Your fear is not nurturing; it's holding you back. Look out the window and you'll know what you need to do. Explore endlessly, learn everything, and try it all at least once. Your wings cannot spread in a tiny room. They need wind. They need air.
Sagittarius
Do not cling onto the parts of yourself that want to be released. Do not confuse commitment with a fear of letting go. Some things must end so that something better can begin. Even if it feels like a small death, the rebirth makes everything worth it. Move forward, even if you're tempted to look back.
Capricorn
You've been let down so many times before. You have given trust, only to have it broken by harsh hands. However, you mustn't let them steal your vulnerability. That person you're dreaming of is out there, dreaming of you, too. If you build walls, you might miss them.
Aquarius
You have always had a vision in mind. However, a big picture is not without tiny, intricate details. The more patience and painstaking care you apply to your vision, the more perfect it will be. If you rush through or give up when the going gets rough, your vision will remain unrealized. Trust in the process.
Pisces
There is no right or wrong way to do something. Even if there is, rules are meant to be broken. The most mundane tasks are only mundane if you allow them to be. Cast a spell of creativity over it, give it a dazzle of magic. Life is meaningless without art. It's as simple as adding a new color.