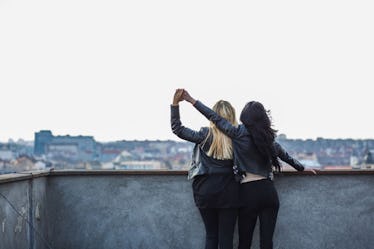 7 Amazing Things Only Your Friend With No Filter Adds To Your Life
Some people have #nofilter. They speak their mind, and tell ridiculous jokes seemingly without a care in the world. You may often wish you could be just as blunt and bold yourself. Sure, sometimes this part of their personality gets them into trouble. (There's most definitely a time and place for certain comments and pieces of humor.) But, you've found that one of your best friends has it down to a science. She always keeps things interesting, and leaves behind a sort of legacy in every room. Your friend with no filter adds a few amazing things to your own life, am I right? You wouldn't want it any other way.
Let's break it down: She's a master at being straightforward and witty, too. She has such a free-spirited and adventurous personality. Growing up, she was the kid who would race her scooter down the super big hills in your neighborhood. She'd ask if you had chocolate pudding in your cabinet, and then proceed to tell you why you should, if you didn't.
She never means to be rude, or ramble on. But, hours will pass and she's somehow gone on a million different tangents without even knowing it. You've learned not to stop her, because you'd rather listen to what she has to say. It's always funny, clever, random, or amazingly weird. She's seriously adds so much to your life, including these seven things.