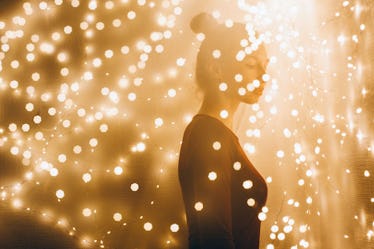 Your Weekly Horoscope Is Here & Chiron Is Causing A Scene
Fate is enveloping our universe, and we're all coming to the end of a majorly healing period. So major, in fact, that it's written in the stars. As of Dec. 2, Chiron — planet of your deepest wound and your lifelong attempts to recover from that wound — has formed a trine with the True Node, the astrological point that describes the direction we're all moving in as a collective. What are we all trying to accomplish together? How can we build a better future? How can we heal each other? When a planet as vulnerable as chiron forms a flawless connection with destiny, humanity will be downloading so much vision and compassion. Soon we'll understand how where this energy takes us. Are you ready to find out what level you're on as an individual? Take a peak at your December 3, 2018 weekly horoscope to find out.
And that's not all: On Dec. 9, chiron will also be ending an introspective retrograde period that has lasted since Jul. 5. Coincidence? I think not. Synchronicity is more like it. Before so many months of personal healing begin coming to a conclusion, the cosmos first want us to see the light together. We're all on the precipice of something big, and you are shedding a layer of painful skin and embracing a new strength.
Spiritual-talk aside, I bet you'll be totally stoked to hear that Mercury — planet of communication and comprehension — will finally station direct on Dec. 6. Prepare for the head-trips to lessen, the brain fog to dispel, and the confusion to finally start making some sense. Although we're not completely out of Mercury retrograde's shadow period just yet, rest assured that things will begin running way more smoothly.
And if all this healing and weirdness has left you in doubt of your power, a new moon in Sagittarius will arrive to brighten your perspective and grant you a fresh start on Dec. 7. With Sagittarius' long distance thinking and natural ability to see the possibilities in life, you can bet that this lunation will catapult you into success, as long as you will it.
Aries
Chiron stations direct in your 12th house of spirituality, helping you come to terms with trauma that you've been carrying as long as your past lives. You are strengthening your spirit after many lifetimes. Trust that you are meant to be here, right now, in this moment. As the new moon lights up your ninth house of adventure, you're on the brink of an exciting new journey. Prepare to travel far and expand your mind.
Taurus
Your 11th house of community is where Chiron stations direct. All the ways that you've felt like an outsider, and it's time for you to understand how much you are loved and belong. Your individuality, warts and all, is what makes you attractive. With a new moon sparking your eighth house of intimacy and magic. You have all the power to manifest your reality, so choose your thoughts very wisely.
Gemini
Chiron concludes its retrograde in your 10th house of reputation. You're healing the way you worry about what others think of you. You're understanding why you've wanted to prove yourself so much that it hurts. Know that the only approval you need is your own. A new moon sets fire to your seventh house of partnerships. It's a beautiful time to make a promise to someone or rethink a current commitment.
Cancer
With Chiron stationing direct in your ninth house of wisdom and philosophy, you're coming to terms with the real reason why you may be chasing an unattainable ideal. Trust that there is meaning all around you, and adventure may be a cover for running away from reality. With a new moon in your ninth house of productivity and health, the adventure lies in what is tangible. Focus on what you can change.
Leo
As Chiron turns around in your eighth house of secrets and shared power, you're understanding why you've been so afraid of revealing your true self and being vulnerable. Embrace your naked truth and share it with those worthy. Those who shy away were never meant for you. With a new moon shooting through your fifth house of fun and pleasure, you're embarking on a creative journey full of color and light.
Virgo
With chiron moving direct in your seventh house of partnerships, you're understanding the pain behind so many missed connections. Your fear of being alone and your fear of being betrayed is being overcome, and it's time to understand that love is worth the risk. A new moon in your fourth house of family brings you back to your roots, allowing you to embark on a new chapter of strengthening your home.
Libra
Chiron wraps up its retrograde in your sixth house of work and health. You're coming to terms with your fear of facing reality and your tendency to dip out of real life and enter a fantasy world. It's time to establish balance and open yourself up to the beauty in the here and now. With a new moon in your third house of communication, you're refining the way you think and the way you formulate your truth.
Scorpio
Chiron leaves its retrograde behind in your fifth house of creativity and fun. You're understanding all the fears that have been impeding your ability to express yourself artistically, as well as embrace playfulness in life. Don't drown yourself in seriousness. The answer lies in your inner-child. With a new moon in your second house of possessions and finance, you have the power to erect a more concrete foundation in life.
Sagittarius
With chiron spinning forward in your fourth house of home and family, you're healing a disconnect with your roots. The way you've been at odds with your family and the distance separating you from feeling "at home" is starting to make sense. And when it does, it will set you free. As the new moon takes place in your first house of the self, you're maturing into the person you're meant to become. Invite your growth.
Capricorn
Chiron stations direct in your third house of communication, strengthening your ability to use your voice. All the ways in which you've been too afraid to speak up and let your opinions be known are becoming clear, and you're ready to let go of these fears and set your truth free. As the new moon lights up your 12th house of spirituality, you're tapping into another level of your intuition and seeing deeply.
Aquarius
With Chiron turning over a new leaf in your second house of finances and stability, you're coming to terms with insecurity you may feel about your ability to take care of yourself. You're understanding that happiness is not contingent on anything, nor can it be bought. The comforts you decide to rely on are up to you. With a new moon in your 11th house of community, you're about to make so many new friends and connections.
Pisces
Through your first house of the self, chiron heals you in the way you need healing. You may be coming out of a seriously dark time in which you've been forced to rethink your whole life and identity. You're facing fears that have been holding you back and charging forth in a stronger, new you. With a new moon sending magic into your 10th house of career, you have the power to make some major moves and go for your dreams.