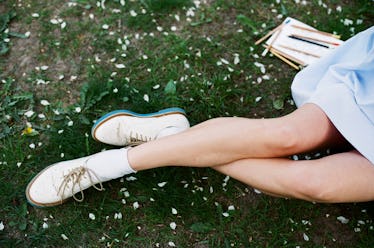 Your Weekly Horoscope Is Here & It's Time To Start Thinking Like A Virgo
Once the sun enters Virgo, we've officially started the final chapter of the summer season. In my opinion, it's way too appropriate that we tie off summer's loose ends with the cleansing energy of Virgo. Summer is a time for carefree fun, long afternoons spent under the sun, and allowing yourself to revel in the whimsical weather. However, you've got to get back to work eventually, and your August 27, 2018 weekly horoscope will guide you toward success.
Since this mutable earth sign is known for its attention to detail, organizational habits, and its ability to follow through with plans, this launches a period of careful planning for the future. It's time to not only think about all the things you need to accomplish, but to lay down the groundwork to actually make your accomplishments happen. And, since Virgo wants everything to be perfect, allow yourself to flawlessly complete one small thing at a time instead of rushing through the process.
Virgo's helping hand isn't all you have to look forward to this week, because as of Aug. 27, the retrograde of fiery, aggressive, and combative Mars will finally come to an end. Thankfully, this means that you'll be butting heads with others a whole lot less, and it also means you'll experience a turbo boost of energy that can take you far. After all, Mars is the source of your vitality, and now that it's moving direct through its orbit, your energy will be refreshed and renewed.
This week comes to a close with a very expressive and explorative last quarter moon in Gemini. Squaring off with the Virgo sun, this lunation is overflowing with mercurial energy, especially because both zodiac signs are ruled by Mercury. It will be time to analyze and examine the way you're using your brain and communicating your thoughts. Do you allow your mind to race without contemplative pause? Are you able to commit to and complete one project before starting another? Take a closer look at the way you're functioning, astro warriors. Are you being effective?
Aries
This week begins with Mars, your ruling planet, finally ending its stressful and irritable retrograde, which automatically makes your life a whole lot better. Prepare to find inspiration in your career once again, for the revelations Mars delivered to your 10th house of reputation are now powering you forward. By the end of the week, the Gemini moon squaring off with the Virgo sun is bound to help you organize and express yourself more clearly. Get down to the basics and formulate a more efficient system for success.
Taurus
With Venus (your ruling planet) in Libra while pouring cleansing energy into your sixth house of work and health, this week is best spent adding more aesthetic details and polishing things off in a beautiful way. Think sleek fashion, healthy food, and redesigning your world. As the Gemini moon wraps up this week in your second house of material worth, you're bound to be thinking of your personal idea of luxury and wealth. What does financial success mean to you? What do you need in order to be happy and fulfilled?
Gemini
This week is all about contemplating how committed you are to your personal values, versus the way others see you. With the Virgo sun in your fourth house of home and family squaring off with the Gemini moon in your first house of the self, you should cater to your most authentic corner of the world. It's time to stop trying to keep up with the outside world and focus on what matters to you. Are you spending enough time on your personal needs? Are you taking enough time for rest and introspection? Go home. Go where your heart is.
Cancer
Since the moon is your ruling planet, the last quarter moon in Gemini will sink deep into your soul. Occurring in your 12th house of spirituality, this moon will ask you to shut the world out and focus on the fruits of your imagination. What is your unconscious mind trying to tell you? Are there recurring symbols in your dreams? Lay off your phone and cleanse your mind. Focus on your intentions. Squaring off with the Virgo sun in your communication house, this week is about simplifying your thoughts and cutting out the white noise.
Leo
With the Virgo sun in your second house of wealth and material possessions, you've got security, comfort, and luxury on your mind. However, as the sun forms a square with the Gemini moon in your ninth house of expansion and learning, you'll be confronted with decisions to make. Is your perspective of "luxury" actually true to your values? What are you sacrificing for your comfort? Would you be willing to let it all go for the sake of adventure? This could be a week of mental and material release, so allow your perspective to shift.
Virgo
With the sun in your first house of the self, you'll have full access to all your talents and skills this week. You'll feel fully in touch with the person you are, but also introspective enough to create more effective plans for the future. This will only translate perfectly into the Gemini last quarter moon in your 10th house of career, allowing you to let go of the mistakes you've made in the past that have hindered your success and learn from them. It's time to release yourself from your mental barriers and move past your career anxieties.
Libra
With Venus in your sign and the sun in your 12th house of the unconscious, your spiritual channels are wide open. You're open to revelations, positive vibrations, and love in every shape and form. Make sure you keep looking for the light, for your soul is hungry for it. As the Gemini last quarter moon arrives in your ninth house of adventure and philosophy, it's clear that you're meant to bite the bullet and do what you've always dreamed of doing. No more "maybe later" and no more "eventually." If you don't take life by the horns, life will take you by the horns.
Scorpio
Now that Mars, your ruling planet, is no longer in its angry and frustrating retrograde, the avenues of your life are no longer full of traffic. It's time to see clearly and move freely. With the sun in your 11th house of community squaring off with the last quarter Gemini moon in your eighth house of transformation, its clear that spiritual rebirth will be found in the right set of people. It's time to climb out of your hole and reach out to others, whether they be old friends or new. Release yourself from bad energy and focus on those who make you feel good about yourself.
Sagittarius
You're all about business this week, and your mindset is fully engaged with your dreams, goals, and the motivation that helps you realize all your success. With the sun in your 10th house of career squaring off with the last quarter Gemini moon in your seventh house of partnerships, you may realize that your business involves a connection with someone else. Perhaps it also means that a relationship may be impeding your success. Whatever you see, make sure that you're pouring your energy into people who support your dreams.
Capricorn
Now that pesky and anxiety-inducing Mars retrograde is over, you're fully in touch with all the energy of Mars in Capricorn. This is making you unstoppable, maybe even ruthless, so don't let anyone tame your fire. With the sun in your ninth house of adventure squaring off with the Gemini moon in your sixth house of work, it's time to think about how you can balance your desire for expansion and new experiences with your need to get important tasks done so that you don't fall behind. Map out a way you can accomplish it all, or carefully decide on what sacrifices to make.
Aquarius
With the sun in your eighth house of reincarnation, this week entails the beginning of a chapter in your life that's all about rising from the darkness. Whatever obstacles you've had to overcome or strife you've had to deal with is ultimately strengthening you for something major. Squaring off with the Gemini moon in your fifth house of fun and creativity, this week also about getting back in touch with your inner-artist and contemplating how you can enjoy the flavor of life more. Are you your own worst critic? Do you feel guilty for being happy? Work on it, Aquarius.
Pisces
Your emotional sensitivities are on high alert this week, making you more concentrated on personal relationships and intimacy with the few you trust. The sun in your seventh house of partnerships is making you want even more authentic connections and stronger commitments. With the Gemini last quarter moon in your fourth house of home and family, you're also wondering how these relationships fit into your personal values. Do you feel like you're sacrificing a part of yourself to make a relationship work? Do these people make you feel like you're "home"? Think about it.