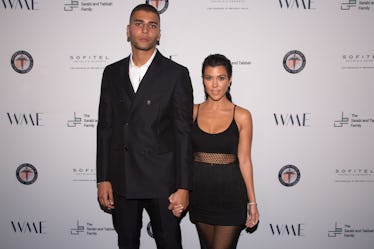 Younes Bendjima Trolled Himself After Leaving A Rude Comment On Kourt K's Bikini Pic
Gabriel Olsen/Getty Images Entertainment/Getty Images
Nothing says "I'm sorry" like a big bouquet of flowers (red roses, preferably). But Younes Bendjima is apologizing to Kourtney Kardashian in an, err, less conventional way. If you remember, he came under huge amounts of very justifiable criticism earlier this week after leaving a negative comment on a sexy pic of the reality star. Although he didn't directly apologize for his remark, Younes Bendjima trolled himself on Instagram, and it comes pretty darn close to an acknowledgement of his mistake.
The drama started on July 16, when the 25-year-old left a snarky comment on an Instagram photo of Kardashian that showed her lounging in a thong bikini. He wrote: "That's what you need to show to get likes?"
The backlash was immediate, prompting Bendjima to swiftly delete the comment. But the gross moment had already been captured by the reality star's fans, who jumped to her defense, pointing out his hypocrisy due to the fact that his own Instagram feed is filled with skin-baring photos.
Now, Bendjima is trying to clear the air and laugh the situation off by weighing in on another one of Kardashian's photos. This time, he left a playful comment on a leg-baring photo of the 39-year-old lying in bed.
"Hmmm well... ok for this one," he commented, along with an emoji sticking its tongue out.
When Kardashian's close friend Simon Huck replied with a eye roll emoji, Bendjima responded, "Let me just play around fam."
I gotta say: this is a cute way to get back in the good graces of everyone he offended with that shady comment. But at the same time, does anyone feel like an apology about how it's never OK to police women's bodies would've been more appropriate? Or is that just me?
Perhaps he did something significant in private to apologize to our girl Kourt, though, and in that case, all is forgiven. In the wake of Bendjima's impulsive comment, a source told E! News that the mom-of-three didn't "appreciate" her boyfriend's comment in a public forum and was "frustrated" by his actions.
"Kourtney doesn't appreciate Younes posting his feelings in a public forum and being impulsive. She's frustrated that he continues to get upset about it. She isn't going to stop doing what she's doing and feels like he needs to understand and deal with it," the insider explained. "Younes gets jealous and can be possessive of Kourtney. When she posts half naked pictures, he gets very upset. He wants her for himself and doesn't want to share her with the world."
In Bendjima's defense, he and Kardashian had recently ended their weeks-long vacation in Europe, and he apparently missed the time they spent together so much that he let his emotions get the best of him and overreacted.
The source added:
Kourtney has explained its part of her job and it's not going to change. But it still makes him uncomfortable and upset. He overreacted and put up a comment without thinking it through. Then he realized what he did made it even worse. He was just not thinking in the moment and got emotional.
Ultimately, though, Bendjima "wants to be able to deal with this side of Kourtney's life and knows he needs to accept it if they are going to be together."
Damn straight. So at least this apology is a step in the right direction.