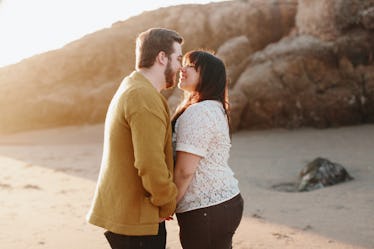 3 Zodiac Signs Most Likely To Have Short Engagements, Because Sometimes You Just Know
If you knew you were going to marry your partner the day you met, or you've always talked about your future together — you may already know that you're destined to have a short engagement. Whether you intend to keep your big day pretty small or eloping has always sounded like a dream, there are endless reasons for why a shorter engagement may feel right to you. Still, when it comes to understanding your romantic life, unpacking the interests and preferences of your zodiac sign can be super insightful. And if you're drawn to a shorter engagement, your zodiac sign may have something to do with it.
For some, getting a ring is a major relationship milestone, marking a serious shift in where your future is headed. Of course, for plenty of others, getting engaged can be a low-key step in the natural rhythm of your relationship. Sometimes, getting engaged can even be a symbolic gesture (or a totally cute photo opp). Engagements look different for every couple, and whatever feels right for you and your spouse-to-be is right, regardless of the timeline.
If you're likely to have a short engagement, you may be one of these three zodiac signs.