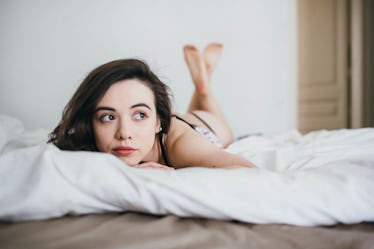 Here Are The 3 Times You Don't Need To Worry About Taking A Pregnancy Test
Pregnancy tests.... They're never fun to talk about. But your sexual health is super important, and the more you know about exactly when and why to take a test, the better. Knowledge is power. Every scenario is different, but there are a few specific circumstances in which you probably don't need to take a pregnancy test at all.
Sometimes, even the thought of whether you might be pregnant can trigger all kinds of questions — you're not alone in this. But that's why staying aware of your body's status can be so empowering. If you've been sexually active recently and are concerned that your birth control method failed or that something about your body doesn't feel quite right, a quick trip to your nearest drugstore or pharmacy to pick up a pregnancy test could be useful. But believe it or not, gynecologists suggest three scenarios in which you actually don't need to worry about taking a test at all.
So before you rush to your nearest Walgreens and buy 10 pregnancy tests in a daze, read through the circumstances below. If you fall into any of these categories, chances are a pregnancy test won't reveal much.