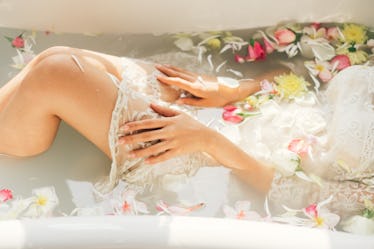 7 Things People Who Have Never Had Sex Are Tired Of Hearing
I once thumbed through a Playboy from the 60s just to see portraits of fully-dressed women running through a meadow. The magazine was unrecognizable from it's modern version, and in the scheme of the history of the world, it wasn't really that old. There's a lot to be said for how far media has come when it comes to writing about sex and sexuality. Yet, conversations about sex often leave out those of us who have never had sex, those of us who don't want to, or those of us who identify as asexual.
Perhaps it's hard to talk about "never having sex," because it can be difficult to pin down exactly what sex is or what "counts" as having sex. Lovers in long-distance relationships may engage in the sexy stuff in their own way. Queer couples' sex lives often don't line up with historical definitions of doin' it. And contrary to popular belief, not all sex is penetrative. Does that still "count"?
In a time when seemingly everyone and their mother is talking or reading about sex, it's natural to feel like everyone is having it. Which, by the way, is totally not the case. In an effort to widen the conversation around not having sex, I spoke with seven women who haven't had sex for the first time, about the things that they are sick of hearing, and misconceptions they are tired of correcting.