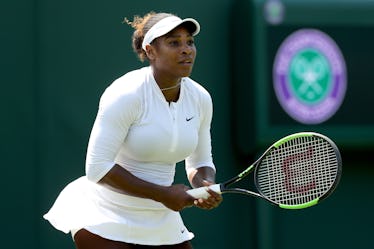 You Can Play Tennis Against Serena Williams On Snapchat, So Bring Your A-Game
Matthew Stockman/Getty Images Sport/Getty Images
If you have ever wanted to square off against tennis superstar Serena Williams, well, now you can — sort of. Snapchat is bringing the tennis court to your phone, so you can go racket-to-racket with the legend herself — or her Bitmoji, rather — in a one-on-one virtual match up. Think you can beat her? Here is your chance to try, because you can play tennis against Serena Williams on Snapchat, and you better bring your a-game to the table.
The mobile match is made possible thanks to Snapchat Lenses, according to Mashable. Fans around the world can take their stab at trying to beat the unstoppable Williams by opening the Snapchat app on your iOS or Android device. From there, navigate to your Snapchat Filters and find the lens that features a neon green tennis ball, according to Mashable. Then, tap on the tennis ball to start the match up. Your Bitmoji will go head-to-head with Williams' personalized avatar, so get ready for a grand slammin' good time. Once the game wraps up (and good luck, by the way), your performance will be ranked on a scale of one to five stars, with five stars being the best.
"It is so fun, because how often do you get to play against me?" Williams said in a video posted to the Wimbledon Twitter account. "It's cool, I'm really excited."
Williams is a mom of one (she gave birth to her daughter in September 2017), and is a seven-time Wimbledon champ. Tennis champ Roger Federer, who currently holds the No. 2 spot in men's singles from the Association of Tennis Professionals, told the Wall Street Journal that Williams may be "the greatest, if not the greatest tennis player of all time." So, you know she's a big deal. But even Williams may be a be stunted by her own Bitmoji character.
"I have played against myself, but I am not able to win," she joked. So, may your Bitmoji game be strong, because playing against a distinguished athlete such as Williams — even on Snapchat — is no joke.
The demand for augmented reality experiences in social media apps seems to be in high demand. On Monday, July 1, Snapchat announced another similar reality-altering experience with Disney, Universal, and Warner Bros. Theme park attendees can use the Snapchat app to interact with well known characters at each of the three theme parks like Minnie Mouse and Mickey Mouse, Superman, and the Minions. The interactive Snapchat experiences is currently available at Disney's parks in California and Florida, as well as at 11 Six Flags locations (including the soon-to-open Abu Dhabi location), and Universal Studios Hollywood and Universal Orlando Resorts.
Additionally, on Tuesday, May 29, the social media app introduced sound-activated lenses. The functionality is a cinch to use. The Snapchat lenses respond to the sound of your voice, and the technology behind it is so exclusive that it is not available on any other apps (at least for now, anyway). You may also remember when Snapchat rolled the Snap Map Egg Hunt just in time for the Easter holiday earlier this year. This is another example of Snapchat's augmented reality technology adding a little something extra to your life.
So, back to, er, reality. If you think you have got what it takes to beat the tennis queen, it is time for you to serve up your best ball and take on Williams in what is sure to be a sensational Snapchat sporting event. Open up your Snapchat app and hit one across the net. You just may be the first one to win big against Williams, herself included.