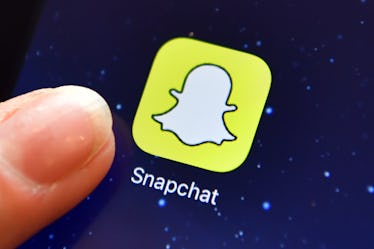 These New Snapchat Lenses React To Sound & They're So Awesome
Carl Court/Getty Images News/Getty Images
It's time to turn up the volume, because Snapchat has introduced a brand new Lens that will respond to your voice. On Tuesday, May 29, the photo-sharing app rolled out its first feature that reacts to sound, and there's nothing quite like it on the market. Here's how to try out the new update yourself, because Snapchat's sound-activated lenses are a game-changer.
As users know, Snapchat's current lenses rely on facial recognition and now movement (thanks to the recent "Snappable" game update) to give you some of the best filters in the world of social media. While Instagram Story offers similar features to take your selfie up a notch, I don't think there's anything quite like Snapchat's extensive lens offerings, which can transform you from a flower crown princess to a bearded pirate in a blink of an eye. Now, Snapchat's latest offering is an innovative feature that's not available yet on any other app, and you're going to want to try it for yourself ASAP.
I tried testing it out on my phone, and the new feature is literally so simple. It's easy to miss if you're just perusing through the different lenses du jour, as the sound-activated lens appears to be a regular lens, like a simple rainbow-hued mouse mask, at first. While there's no denying you look pretty cute with pulsing pink ears, a heart nose, and wiggling whiskers, the real magic starts happening when your phone's microphone picks up on noise. Depending on how loud the sounds are, your ears will start glowing and getting bigger.
According to Mashable, the Lens is sensitive enough that it hones in on your voice while ignoring background noises for the most part, so you know that you won't be getting annoying side chatter in your video.
While this first voice-controlled Lens might look pretty basic, Snapchat will be rolling out a whole arsenal of Lenses that respond to sound over the coming weeks, according to Engadget. In addition, Mashable reports that advertisers will now be able to create sponsored Lenses with these sound capabilities, so you know that you'll have lots of creative control and fun options when it comes to customizing all your selfies in the future.
Snapchat's new feature comes just weeks after the social media giant unveiled its new "Snappable" game, which has pretty much swept all my productivity out the door since it was rolled out on April 25. By swiping left in the Lenses carousel, players can access the constantly changing game arsenal and engage by contorting their facial features into a variety of silly expressions. With all the exciting games currently on cue, the Verge reports that you can challenge your Snap-happy friends to everything from a virtual emoji dance party to lifting weights by raising your eyebrows, because who doesn't love a giggle-inducing time-suck.
While the Snappable game feature is addicting enough as is, imagine all the hilarious possibilities that could arise if Snapchat added a sound Lens feature that lets you customize your experience by playing around with your voice. OK, so you could have more potential for public embarrassment if you're shouting slash singing while also making goofy facial expressions, but hey, anything for one-upping your friends, right? Just food for thought.
Anyway, it's great to see that Snapchat is back on the right track with new updates that are sure to have users spending even more time on the app, including Lenses that can be tailored for any special occasion, and I can't wait to see how the new sound Lens evolves over the next few weeks. Depending on the user response, I wouldn't be surprised if Instagram decides to jump on the bandwagon and create some sound-responsive features of their own.