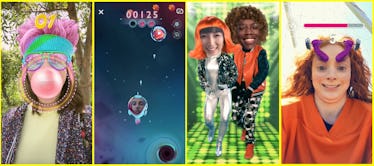 You Can Play Games On Snapchat Using Your Face & They Look Like So Much Fun
Snapchat
If you spent hours during Easter weekend trying to complete the Snapchat Egg Hunt, you're in for a real treat. The beloved social media app has just introduced Snappables, which are cool new virtual reality (VR) games. However, they're unique to the VR gaming world because you control them with your face. So if you think you have some strong AF facial muscles, here's how to play "Snappable" Snapchat games. Say goodbye to all productivity, and forget about being shy in public.
Snapchat is introducing Snappables on a rolling basis starting Wednesday, April 25, according to a press release. Snappables, aka the procrastination tool of my dreams, is a series of games that users can play against their friends. Each game is controlled using facial expressions, touch, and motion. You'll look wacky AF while you're playing, but a victory against your buds is worth a little public humiliation... right?
According to Snapchat, finding Snappables is quite simple. First, navigate to Snapchat's selfie cam. Then, tap the screen for Lenses, and find Snappables in Snapchat's Lens Carousel to the left of the circular capture button (as opposed to the right side, where World and face Lenses are located). You'll then be able to choose from several unique games. Some games allow you to play individually and invite friends to challenge your high score afterwards, while others are multiplayer. The best part is that new Snappable games will be released on a weekly basis, so you'll never get bored with any of them. The game is on, my friends. Get ready to see me make some really interesting faces.
Snappables is going to bring a wide variety of new and interesting games to the table. According to The Verge, users will be able to form a rock band with their friends, compete in a one-on-one emoji dance-off, or even play each other basketball. Snapchat's promotional video for Snappable also shows someone playing an outer space game, another playing some sort of kissing game, someone DJing, and one person raising eyebrows to lift an on-screen barbell. The ideas for each game is super creative, and all of them look like so much fun. I'm already addicted to Snappables, and I don't even have the feature in my app yet. I have so much FOMO RN, you have no idea.
As I mentioned before, the app's release of VR games was somewhat foreshadowed by Snapchat's Egg Hunt. It was only available during Easter weekend, but it was so. Much. Fun. Everyone's Snap Map was decked out in tiny colorful eggs, and users had to physically explore their neighborhoods to collect as many cyber eggs as possible, before the evening of April 1. Similar to Pokemon Go!, eggs were available in public spots, like in coffee shops, stores, and parks. The same eggs that showed up on your own Snap Map were the same for everyone else, so it was a super fun and friendly activity. It's gone now (RIP), but it was an awesome to pass the time. I'd be lying if I said I didn't run eight miles that Saturday just to catch 90 eggs in one sitting (sorry not sorry).
Snapchat's release of Snappables will not only be the end to my reputation (just wait for my weird AF faces), but also the end of my ability to be productive and do work. The idea of controlling games with my facial expressions sounds addicting — and quite honestly hilarious. I'm mostly looking forward to watching everyone frantically contort their faces on the subway to beat a VR space invasion, because that sounds absolutely amazing.