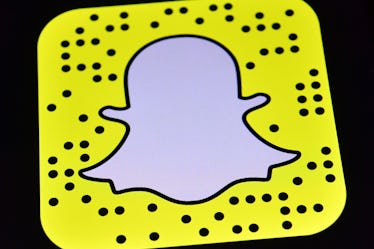 You Can Play With Your Favorite Characters At Theme Parks With This New Snapchat Feature
Carl Court/Getty Images News/Getty Images
If your travel plans involve a trip to any of the major theme parks this summer, make sure you have Snapchat on your phone for an extra fun time. The social media app announced on Monday, July 2 that augmented reality is coming to Disney, Universal Studios, and Six Flags for the ultimate user experience. Now, you will be able to turn yourself into Mickey Mouse or Superman, as well as hang with the Minions inside of theme parks across the country. Snapchat's augmented reality at theme parks will let you play with your favorite characters, according to The Hollywood Reporter, so you can have the best summer ever.
Using Snapchat lenses, park-goers will be able to turn themselves into the iconic mouse duo that is Mickey and Minnie at Disneyland, Disney World, and other Disney theme parks, as well as play with the ever-popular yellow Minions while strolling around Universal Studios Hollywood and Universal Orlando Resort. Snapchat's augmented reality experience has already arrived at Disney and Universal, so you're all clear to start your character adventure now.
The app's augmented reality experiences will also be available to Snapchatters visiting any of Six Flags' 11 theme parks, including Warner Bros. World Abu Dhabi, which is slated to open on Wednesday, July 25. This is the first time ever that Snapchat has offered a reality-heightening experience at Six Flags parks, and it's available starting on Tuesday, July 2, according to The Hollywood Reporter. Because the park has a licensing agreement with DC Comics and Warner Bros., you will be able to put on your red cape and turn yourself into Superman (or catch him saving the world yet again) while visiting any Six Flags location.
"We love working with our partners Disney, Universal and Warner Bros. to create augmented reality experiences that allow our users to connect with some of their favorite characters in a totally new way," Snapchat's Vice President of Partnerships Ben Schwerin told The Hollywood Reporter. "We can't wait for Snapchatters to have fun with these lenses when they visit the parks this summer."
Previously, Snapchat has worked with Disney on Mickey Mouse and Minnie Mouse birthday lenses, according to The Hollywood Reporter. The social media app has also produced a "Superman face lens and a Jurassic Park Bitmoji lens," in the past. This, however, is the first time that Snapchat's reality-changing lenses are available at the three major parks at the same time.
If you are reading this and aren't totally sure what augmented reality is, that's OK. It's still relatively new to the tech world. Augmented reality is the "blending digital objects and information with the environment around you," according to Apple. So basically, it allows you to "see" something unreal (like Minnie Mouse) in the real world.
Snapchat's augmented reality experience looks pretty awesome. With Disney, Universal, and Warner Bros. to choose from, you will be able to hang with a variety of your favorite theme park pals for the time being. It is unclear if these lenses are here to stay, or if they will only be available for a limited time. Better to be safe than sorry, so book that flight and order your park passes ASAP.
Augmented reality lenses are all of the rage right now, so it's no surprise to me that Snapchat decided to team up with these three major theme park operators to bring park-goers a more enhanced user experience. As an annual pass holder at Disney, I'm looking forward to catching up with Minnie and Mickey on my next trip. To take advantage of this interactive new addition, make sure you are running the most recent version of Snapchat on your iOS or Android device.