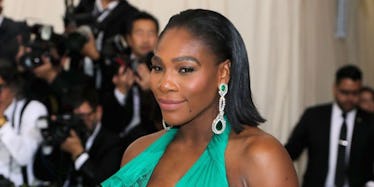 Serena Williams Reveals Name Of Baby & Shares First Photo In Adorable Instagram Pics
Neilson Barnard/Getty Images
Serena Williams welcomed a baby earlier this month and is ready to share the little one's first photo... and their little girl's name! Serena took to Instagram to reveal the baby details, following a selfie of herself with fiancé and new dad, Alexis Ohanian. The caption said: "...but are you ready?" Fans were more than ready! Serena's Instagram Story didn't disappoint, as she took fans along for the ride, sharing images of the first ultrasound pic, through the pregnancy, and finally, the first baby pic of their little girl. Yup, photos of Serena Williams' baby are really here!
The name though, right. Let's talk about that name: Alexis Olympia Ohanian, Jr. A girl who has the same name as dad and is a junior! How much do you love it? Alexis Jr. was born on Sept. 1 and weighed 6 lbs 14 ounces.
Taking fans through her journey, the first image on Williams' Instagram Story is basically the start of it all as the doctor says "OK, so, you're pregnant." From there, Williams snags a video of her fiancé, captioning it "Daddy," who is beaming and says he's "excited."
He snags an image of Williams, writing, "Your mother is the most beautiful woman on the Earth." Aw. Heart melting. The couple are next seen describing the baby's size, with Ohanian saying, "you're a blueberry right now."
Then check out Williams with her Grand Slam trophy, captioning it, "No one knows I'm 8 weeks pregnant," as she kisses the trophy and says "That's my baby." How sneaky!
Williams was then seen "watching a movie about where babies come from," although we're pretty sure she's got that figured out at this point. Dad is then seen getting some nursery ideas, so clearly there was some major excitement about their upcoming arrival.
Williams then shows a selfie of herself at 15 weeks and some of the pregnancy fun, with the tennis star falling asleep while Face Timing with Ohanian, doing a happy dance, and, of course, working on her tennis game. The family pets make an appearance by mama-to-be's side, then Ohanian says, "I felt you kick yesterday and it was amazing." Aw. Williams then shows off her 20 week baby bump, followed by footage of her relaxing in the pool.
How about this cool perspective? Williams snags footage of her baby in action, captioning it "you move at 10:15 or 10:30 every night." Next up, Williams shares her bump at 22 weeks and let's just say it: she's glowing. Like, for real. The couple share a little love before Williams gives a side view, dressed in white, looking like a real-life goddess.
The couple share some fun facts about each other, with footage of  Williams getting her groove on and the caption: "U can dance lol. Maybe too crazy though," with Williams telling their baby: "Your dad's a real nerd." Snort.
She follows that with a 33 week selfie, the baby's heartbeat at 34 weeks, and dad practicing his swaddle on their dog. As Williams' pregnancy slows down, she shows off her swollen feet, her 39 weeks selfie, and a look at the crib and baby's nursery, with dad bragging, "I made it all by myself."
And then... the baby finally makes her appearance and she is as sweet as anything, with a full head of hair! Williams reveals that there were "a lot of complications" that required them to stay at the hospital for 6 or 7 days, saying "it's been a long time...but look who we got! We got a baby girl!" The birth announcement tells all: "Hello, world. Baby girl Alexis Olympia Ohanian, Jr. Born: Sept. 1, 2017, Weight: 6 lb. 14 oz., Grand Slam titles: 1."
Congratulations, Serena!