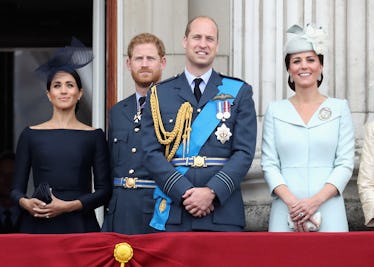 William & Kate's Reaction To Meghan & Harry's Pregnancy Is So Lovely
Chris Jackson/Getty Images Entertainment/Getty Images
In case you just woke up, Prince Harry and Meghan Markle are expecting their first baby, and OMG you guys I seriously could not be more excited. I mean, I need to know every single detail. Like, does the former Suits star have any morning sickness? Is she craving sweets? And what does the royal family think about the baby news? Oh, to be a fly on the wall to witness William and Kate's reaction to Meghan and Harry's pregnancy! Apparently, the Duke and Duchess of Cambridge are "delighted" for the couple, according to a spokesman for Kensington Palace.
"The Queen, Duke of Edinburgh, Prince of Wales, Duchess of Cornwall and the Duke and Duchess of Cambridge are delighted for the couple and were able to congratulate them on Friday at the wedding in person," a spokesperson for the royal couple announced in a statement, according to Express.
And now I just want to know how Princess Eugenie feels about her Oct. 12 nuptials kind of getting upstaged by the Duke and Duchess of Sussex's big reveal. I mean, can't a girl have her moment?
Anyhoo, one of my favorite things about this pregnancy news is the fact that Prince Harry and Meghan Markle's new addition will join an awesome posse of little royal cousins, including Will and Kate's kiddos: Prince George, 5, Princess Charlotte, 3, and 6-month-old Prince Louis.
What a squad!
And get this: according to People, Markle is reportedly due next spring, which means the new babe and Prince Louis will be less than a year apart. So damn cute! The Kardashian fam better watch out, because it looks like the Royals are def catching up! It can't be long now before we get an across-the-pond version of this adorable Kardashian cupcake party pic:
I mean, I can totally picture all the royal cousins sprawled on the grounds of Windsor Castle surrounded by elderflower scones or whatever, can't you?
News first broke that the Duchess of Sussex is preggers on Monday, Oct. 15, when Kensington Palace shared a photo of Meghan Markle and Prince Harry on their Twitter feed.
"Their Royal Highnesses The Duke and Duchess of Sussex are very pleased to announce that The Duchess of Sussex is expecting a baby in the Spring of 2019," the tweet read. "Their Royal Highnesses have appreciated all of the support they have received from people around the world since their wedding in May and are delighted to be able to share this happy news with the public."
It's all just so exciting. I mean, we already knew that Prince Harry wanted to start having kids ASAP. And a source did tell Us Weekly last week that Meghan Markle and Prince Harry were trying to get pregnant, and that having lots of kids was a priority for them.
"They both want a big family," the insider explained, "at least three kids."
Will they all have red hair and freckles like Prince Harry? Will they look more like Meghan? So. Many. Questions.
But at least we now know what those damn purple folders were for!