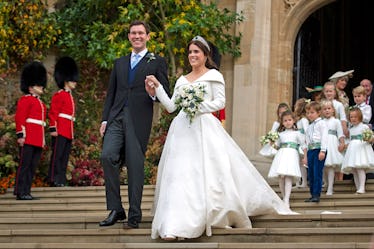 Here's Where Princess Eugenie & Jack Brooksbank Will Live After Their Wedding
WPA Pool/Getty Images Entertainment/Getty Images
We have new royal newlyweds, everyone! Sound the alarm! Princess Eugenie and her husband Jack Brooksbank officially tied the knot on the morning of Friday, Oct. 12, at St. George's Chapel in London, England. The UK is busy celebrating and I'm busy Googling the heck out of their new life together. One thing fans are wondering is where will Princess Eugenie and Jack Brooksbank live after their wedding? The answer is pretty obvious once you hear it: Kensington Palace. Duh. Specifically, she and Jack will shack up in Ivy Cottage, the residence they already moved into four months after their engagement.
Kensington Palace is the "it" place for young royal couples these days. According to reports, Ivy Cottage is a three bedroom property within the Kensington Palace grounds and is also one of the smaller residences. Woman and Home magazine claims Princess Eugenie and Jack have plans to renovate after the wedding.
As for decorating, many sources are referencing an interview Princess Eugenie did with Harper's Bazaar back in 2016 when she said, "My bedroom is full of photos my parents have taken. Mumsy took one of an elephant spraying water on its back, which is incredible, and there's one Papa took of Balmoral Castle. I've got a lot of art that needs to be put on the walls. And there are shoes everywhere." Plus, in addition to her philanthropy work, Princess Eugenie works as an associate director for the Hauser & Wirth art gallery in London.
As I mentioned, Princess Eugenie and Jack Brooksbank are in great company inside Kensington Palace. Their neighbors include both the Duke and Duchess of Sussex, Prince Harry and Meghan Markle, and the Duke and Duchess of Cambridge, Prince William and Kate Middleton.
Meghan and Harry moved into Nottingham Cottage on the palace grounds which is reportedly "only" a two-bedroom residence. However, it also comes with two reception rooms, a bathroom, and a garden, according to Town and Country. It was previously occupied by Kate and William before they moved out in search for more space. Prior to them, Princess Diana's sister Lady Jane Fellowes lived there, too.
Just up the way in Apartment 1A, Kate, Prince William, Prince George, Prince Louis, and Princess Charlotte have all spread out. Though we might think of an apartment as something small, this residence actually provided this royal family with enough space to grow. According to Vogue, 1A is made up of 20 rooms over four stories.
For reference, here are a few pictures inside the gardens and grounds of Kensington Palace.
It all looks very British, right?
In addition to all of the young happy couples inside Kensington Palace, other people like the Duke and Duchess of Kent, the Prince and Princess of Kent, the Duke and Duchess of Gloucester, and about 50 other residents live within the palace walls, too.
I like to imagine they're all planning a neighborhood BBQ to celebrate Princess Eugenie and Jack's marriage, but something tells me the Queen has something a little more elaborate in mind.