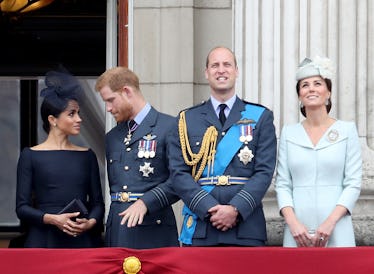 William & Kate's Body Language At The RAF100 Compared To Harry & Meghan's Is So Different
Chris Jackson/Getty Images Entertainment/Getty Images
You know that cool, "older" couple you and your partner always hang out with who radiate a sort ~chill~ calm toward each other? The couple that's been together way longer than you and your partner, and that roll their eyes when you two can't keep your hands off each other, almost as if to say, "Calm down, you crazy kids." That's what I think about when I picture William and Kate's body language at the RAF100 compared to Harry and Meghan's. That's not to say that Prince William and Kate Middleton aren't still head over heels for each other — because they totally seem like it. It just looks like a significantly more lax love than the one that Prince Harry and Meghan Markle display, considering they got married a mere month-and-a-half ago.
On July 10, the British Royal Family gathered on the Buckingham Palace balcony to watch a flypast in celebration of the Royal Air Force's 100th anniversary. There was also a service at Westminster Abbey (where William and Kate tied the knot in 2011), and a ceremony called the Presentation of the New Colour, where the Queen presented the Air Force with new flags, or "colours." All the big players were in tow, including the Duke and Duchess of Cambridge (Will and Kate) and the Duke and Duchess of Sussex (Harry and Meghan).
As we know, the Royals aren't too keen on showing that much PDA, but the addition of Meghan Markle to the family has given us, the grateful public, a wealth of sweet little moments here and there between her and Harry. There may be a few reasons why she and Harry show more public affection than Will and Kate. Many say it's because Will is more directly in line to the throne than his little brother, so he and Kate need to be a little more professional around cameras. That's not to say they don't ever embrace, though! They recently welcomed their third child (Prince Louis) a few months back, and looked like gold shining stars (literally) when they left the hospital. But Harry is probably never going to be king, because he's literally, like, sixth in line behind his nephews and niece. Basically, he's cruising, so he can hold Meghan's hand in public and not be shy about it! A concept!!
Then again, Will and Kate have been dating since at least 2004, and married since 2011. They have three kids and have attended countless royal engagements and fancy events. By contrast, Meghan was officially referred to as Harry's girlfriend for the first time in November 2016, and they were married less than two years later, in May 2018. They have no kids and have been in the public eye significantly less than Will and Kate have. Maybe, since their love is so much "newer" than Will and Kate's, they're more vocal about it. Maybe Will and Kate are just tired, as parents with a newborn baby tend to be sometimes. Whatever the reason, it's interesting to compare the body language between the two couples — who are part of the same family, live in the same palace, and spend tons and tons of time together. I reached out to body language expert Lisa Mitchell for her take on what the key differences between the couples and their body language might mean at the RAF100 celebrations in London today. Here's what she had to say.