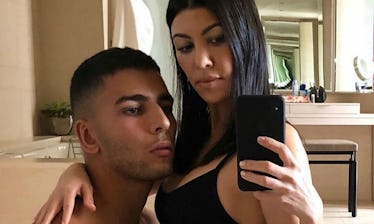 Here Are The Signs That Younes Bendjima Could Appear On 'KUWTK' Season 15
Instagram/KourtneyKardash
Show of hands: Who is ready to start keeping up with our favorite family? Keeping Up With The Kardashians Season 15 will be premiering on Sunday, August 5, and I for one am preparing myself for drama and chaos, and, most likely, a lot of weeping Kardashians. But the one Kardashian sibling I'm looking most forward to seeing this season is Kourtney. From the looks of the KUWTK season sneak peek, it seems as though there will be a lot of emotional scenes from the typically low-key sister and I'm interested in seeing how it all pans out. And alongside Kourtney, I'm wondering: Will Younes Bendjima be on Keeping Up With The Kardashians Season 15? He's remained pretty much out of the picture in the past, so I'm anxious to see if he'll have regular appearances this season.
While there's no concrete evidence confirming that Younes Bendjima will be on Keeping Up With The Kardashians newest season, there's nothing to really disprove it, either. So there may be a slight chance! Elite Daily reached out to E! for confirmation but did not hear back by the time of publication.
Fans were fortunate enough to see Bendjima's ridiculously handsome face appear for the very first time on the March 4 season finale of KUWTK, when he surprised Kourtney at her Pretty Little Things launch event.
When Kourtney asked him what he was doing at the event, Bendjima replied, "You thought I would not come? I was like, 'I have to support you!'"
Then the couple kisses like it's nobody's business, and it was a pretty glorious thing to witness:
So does this one small scene from last season's finale perhaps suggest that we'll be seeing more of Bendjima in the coming season of KUWTK?
While it seems to me that he'll most likely make a few appearances on the show, I highly doubt he'll become a regular throughout the episodes. Which is a bummer, because honestly? I really, really like looking at his face. And his abs. Basically, his everything.
And I'm certainly not alone in my thoughts either, because many fans love seeing the pair together and hope to see more of Bendjima on the show, too:
What we do know about this season is that it's going to be dramatic AF. Based on the first look trailer that was released, we see a lot going on: Khloé being pregnant, Kylie being a new mom, and Kim being...well, Kim. But it seems like one thing is for certain, and that's the fact that Kourtney appears pretty fed up with the Kardashian family.
In one portion of the video, we see an enraged Kim screaming, "You don't do f*cking sh*t!"
"You're just a f*cking bitch!" Kourtney responds tearfully.
"Get the f*ck out of here and go! Shut the f*ck up," Kim yells at Kourtney, who's already slamming the door behind her.
I know. Intense.
Later in the video, we see Kim telling Khloé, "She just doesn't want to be a Kardashian anymore," while the video cuts to a clip of Kourtney.
"She can shove Kardashian up her f*cking vagina!" Khloé replies.
While we don't know the reasons why Kourtney is fed up with being a Kardashian (or if she's actually fed up with being a Kardashian and Kim is just blowing something she said or did out of proportion or something), we can always speculate. Is it because they don't like Younes? Is it because she prefers to keep her personal life out of the public eye? Big shrugs all around, you guys.
So if Younes does appear on the show, let's all cross our fingers that he's prepared to go into battle, because the Kardashian siblings are reality warriors, and he might not be fully prepared for the storm that's about to hit. Godspeed, Younes. Godspeed.