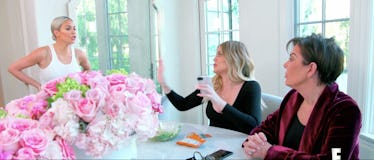 Kim & Kourtney K Are At Each Other's Throats In The Dramatic 'KUWTK' Season 15 Trailer
E!
Can you believe that Keeping Up With The Kardashians is going into its 15th season already? It feels like just yesterday we were watching the Kardashian siblings all grow into their own, and now, we're basically watching all of the siblings' children grow up. Where has the time gone?! In the KUWTK season 15 trailer, we get to see a lot go down — there are previews of some really sweet and touching moments, and others... not so much. Who am I kidding, the entire preview is basically 60 seconds of pure drama, and it's enough to make your head spin. We've got sisters feuding, people yelling, and one sibling who is pretty much over being a Kardashian — all in under a minute. So buckle in, you guys, because this season looks bumpy AF.
The trailer begins off nice and light, making all those watching think that what we're about to witness will be easygoing and non-confrontational. Like Bob Ross, only with better contouring.
"Oh hey, guys. It's Kimberly. Remember me? It's been a minute," Kim Kardashian says. "Did you miss us? 'Cause we missed you. But don't worry, you didn't miss anything."
It's all so soothing! Even though she's clearly on a film set, the tone of her voice makes me feel as if Kim Kardashian could be sitting in a meadow, or perhaps next to a babbling brook, and I'd believe it. Pure serenity.
BUT YOU'VE BEEN FOOLED, FAM! THESE ARE THE KARDASHIANS, AND THEY ARE OUT FOR BLOOD.
We have about maybe 10 seconds where things are looking on the bright side. We see Khloé calling Kylie, asking if she's "obsessed with being a mom," and we hear Kylie saying, "Yes, I am!" We also see a pregnant Khloé walking arm-in-arm with her siblings, and so your thought is, "Wow, maybe the Kardashians are just going to have a drama-free season!"
Kim's soothing voice tells us, "Not much has changed. We've been keeping a low profile, but my sisters and I are closer than ever."
This is all sounding so, so good!
BUT IT'S NOT ALL GOOD. I REPEAT, IT IS NOT ALL GOOD.
The video immediately cuts to an enraged Kim, screaming, "You don't do f*cking sh*t!"
"You're just f*cking a bitch!" a tearful Kourtney cries.
"Get the f*ck out of here and go! Shut the f*ck up," Kim yells at Kourtney, who's slamming doors.
What... what happened? Where did we go wrong? One minute, I was being blissfully transported by the sound of Kim's voice to a world of peace and tranquility, and the next, I'm panicking and can actually feel my blood pressure increase.
Later in the video, Kim tells Khloé, "She just doesn't want to be a Kardashian anymore," and the video cuts to a clip of Kourtney. "She can shove Kardashian up her f*cking vagina!" Khloe replies.
At the end, Kim asks the audience, "Are you ready? Then let's begin. Can you keep up?," and if I'm answering honestly, I've got to say no. I'm sorry but no, I clearly cannot keep up with this family.
Kim posted the whole preview trailer to her Instagram account (which has since been deleted) where many fans claimed that they could keep up, and couldn't wait for the season to start.
One Instagram user commented on the Kardashian's Instagram video, writing, "I can watch this show for the rest of my life and not get bored," while another wrote, "ABOUT TIME IVE LITERALLY BEEN DYING," so I think that pretty much sums up how everyone's feeling about season 15 so far.
For any of you who are interested (aka the entire universe), the season 15 premiere of Keeping Up With the Kardashians airs on E!, Sunday, Aug. 5. I'll do my best to keep up.