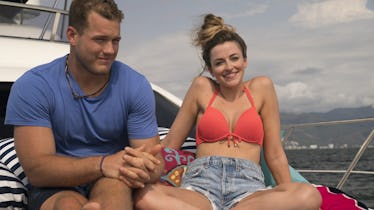 Bachelor Nation Has One Question Now That Colton's Been Announced As The Next Bachelor
ABC
It felt like it took a million years for this moment to come, but ABC has finally announced who will be looking for love on the next season of The Bachelor. Former NFL player Colton Underwood will be The Bachelor Season 23's star, and it's not too much of a surprise considering what a major focus he was during Becca's season of The Bachelorette and, later, on Bachelor In Paradise. Now, Bachelor Nation has one major question on their minds: Will Tia be on Colton's Bachelor season?
Colton and Tia have quite a history for two people that just went on one date before he was whisked away to compete on Becca's season of The Bachelorette in January 2018. If you need a refresher, here's what went down between the pair.
At the beginning of Becca's season, Colton revealed to Becca that he had a bit of history with her friend from Arie's season of Bachelor, Tia, but that it was just that: history. "Prior to coming on to this in January, I had a relationship with Tia and I wanted to make sure to explain sort of that we had a weekend together," he explained to Becca on the show. "But for me, the timing wasn't right to grow what was a spark into a flame. If my feelings were strong enough I wouldn't have come on [The Bachelorette]."
Although Tia told Becca at the time that she was totally cool with her pursuing a relationship with Colton on Bachelorette, she did a 180 once he made it to Becca's final four. "I just have to be fully out there and put it out there because it's been weighing on me," Tia admitted, as she revealed she still had feelings for Colton to Becca shortly after he took her on a hometown date.
Tia's confession pretty much ruined any chance Colton had with Becca despite him not having feelings for Tia, and he was sent home from the show.
When all was said and done, Colton and Tia attempted to rekindle their "spark" that never turned into a fire on Bachelor in Paradise, but the show really proved they were just never meant to be. In an emotional conversation with Tia after dating officially for a few weeks on the show, Colton revealed to her that the feelings just weren't there.
So, is Becca going to be on Colton's season of Bachelor? The answer is no, according to Colton AND Tia.
"No, I would like to say we are finally on the same page for the first time in our relationship, and we're just good friends," Colton explained to Michael Strahan on the Sept. 4 episode of Good Morning America in which his Bachelor status was announced. Watch the moment below.
Tia also took to Twitter to give fans an emphatic no when they asked if she'd appear on The Bachelor, writing, "NO I will NOT be a contestant on Colton's season. Lord bless."
So, it looks like the saga of Tia and Colton's doomed romance is truly, finally over. Now, the question is: Will Tia be the next Bachelorette? Only time will tell, but I think she's the perfect option!