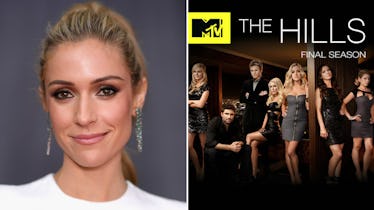 Kristin Cavallari Says There Was Almost A 'The Hills' Reunion, But 2 Cast Members Ruined It
Dimitrios Kambouris/Getty Images Entertainment/Getty Images /MTV
Don't you ever just wish you could hit the rewind button on your life, and go back, back to the beginning, to a truly significant and important time in your childhood or adolescence? Sure, you can opt to relive the moment of your first kiss, or being asked to prom, or the best sleepover with friends, but personally, I'd go back to a time where The Hills was playing on my television and I'm sitting on my couch, doing absolutely nothing but living for the drama within the cast. Don't even think about judging me on this either, because I bet this sounds pretty appetizing to you, too. While you can always watch re-runs of your favorite show, there's nothing quite like watching it play out in real time, and it makes me wish that The Hills would make its return to TV, so it begs the question: will there be a The Hills reunion? Well apparently, the idea has been brought up to the members, but two people, in particular, are stopping it from actually happening. I know, I'm fuming too.
So if you're wondering what gives, it seems like we can chalk up the fact that The Hills won't be having a reunion anytime soon to a little couple named Speidi, AKA Heidi Montag and Spencer Pratt.
WHY, YOU GUYS. WHY?
Earlier this month, Cavallari went on The Wendy Williams Show, telling the audience that they were considering a reunion, but then "two people had to pull out because of another contract."
You can watch the whole interview unfold, but if you want to get to the juicy bit where Cavallari basically points the finger at Pratt and Montag for not agreeing to a The Hills reunion, watch around the 6:30-mark:
And in case that interview wasn't discrete enough, the Very Cavallari star went on Watch What Happens Live With Andy Cohen on Wednesday, July 11 to chat about her former cast mates from The Hills. Obviously, there was talk about Lauren Conrad, who Cavallari shared a boatload of drama with on the famous reality shows, but the topic shifted to new mom Heidi Montag, who Cavallari says she keeps in touch with regularly.
"Heidi has texted me with any and every question about being a mom. I talk to her all the time and she's doing great," Cavallari said. When asked if The Hills cast members were open to having a reunion, and whether it was, in fact, Heidi and her husband Spencer that caused the whole thing to be put on hold, Cavallari said, "I have not spoken to Spencer. I've talked to Heidi. Of course, I would love to do it. I think at some point it will happen, but I think just right now it wasn't the right time."
Just when my day was going so well, I come to find that Speidi has to go and ruin things for everyone.
Le sigh. To be fair, Kristin never straight-up confirmed that it was Spencer and Heidi who had to pull out because of a contract, but what other two people are so integral to the show that would both be in a binding contract that prevents them from doing the The Hills reunion at the same time? They seem like a match.
I do find it odd that Spencer Pratt told Entertainment Tonight a slightly different story while attending DailyMailTV Summer Party in West Hollywood, California, on Wednesday. "I never wanted The Hills to leave. So yes, I'm very ready. Let's bring her back, MTV!," Pratt said. When asked if the network had contacted him about a possible reunion, Pratt responded, "I don't think they need to contact us. We've been signed with other things with MTV for a long time."
Hm. Well, that's certainly strange, Spencer. It seems like there *might* be a little bit more going on in this story than we're getting told. Could the two people Cavalarri was talking about be two people other than Speidi? I guess we'll just have to wait and see how this pans out.
In the meantime, I'll just be re-living my youth by watching old clips of The Hills on YouTube and anxiously awaiting the day everyone is on board for a reunion.