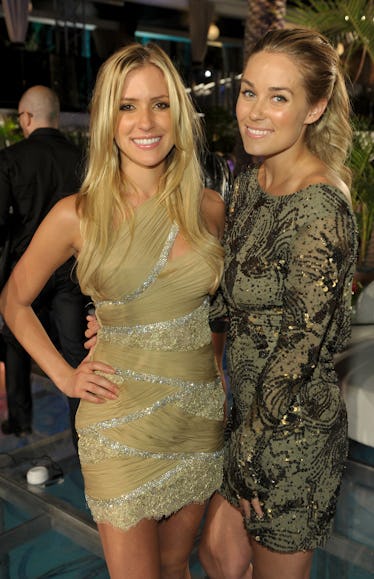 6 Shady Things Kristin Cavallari Said About Lauren Conrad That Prove Their Feud Was Brutal
John Shearer/Getty Images Entertainment/Getty Images
Celebrity relationships and friendships are a rare breed. These famous faces have their lives played out in front of the masses, whether it's the good, the bad, or the straight-up shady. In Elite Daily's new series, It's Complicated, we're highlighting the biggest celebrity "feuds" that took over Hollywood and dominated our Sunday brunches for weeks on end. We'll take a deep dive into the lives and social media feeds of our favorite stars and dissect what happened in front of the camera, what went down behind the scenes, and everything you might have missed in between.
Shut your eyes and pretend it's 2006. Were you Team LC (Lauren Conrad) or Team Kristin (as in Cavallari)? It's been 12 years since Laguna Beach last aired on MTV, and the two combative stars have long since grown up and moved on. Not only have they both created comprehensive lifestyle brands, but both are successful businesswomen, moms, and authors now, too. And for the record, neither one of them is married to Stephen Colletti, the boy they fought over back in high school. But for a while there, things were definitely heated. Here are six shady things Kristin Cavallari has said about Lauren Conrad over the years. So, let the rain fall down as we go back, back to the beginning...
1. The Workout Shade
It's 2009, and a reporter from TMZ caught Cavallari leaving the gym. "If you and LC ever had a cage fight who do you think would win?" she asked. "Me, I'm the one who's working out," Cavallari quipped, before closing the car door. 'Nuff said.
2. The Personality Shade
That same year, Cavallari got tapped to replace Conrad on Season 6 of the Laguna Beach spinoff series, The Hills. "I'm a completely different person than Lauren," Cavallari told People when asked how The Hills would be different with her as the new lead. "I have a lot more energy. I'm more outgoing. I'm a little more spontaneous."
Tell us how you really feel, girl!
3. The Casting Shade
Fast forward to 2016 and Cavallari added even more fuel to the fire when she told BuzzFeed that MTV had been trying to get her to go on the show long before 2009. "They came to me to go on The Hills numerous times," she said. "I kept being like, 'No, that's Lauren's thing — I'm NOT going to do it. With [Lauren] leaving, obviously, it was too good of an opportunity to pass up," she said of her decision to sign on and shake things up.
And who could forget Conrad's epic response to her arrival?
4. The "Nice" Shade
Conrad exited the show in 2009 to star in a reality series that followed her as she developed her own fashion line. It was canceled, and in 2011, a reporter for Fancast asked a then 24-year-old Cavallari for her take on the situation. "Lauren's a very nice girl," Cavallari responded. "She's very sweet, but that's not always entertaining." Oooh, burn!
5. The Fake Boyfriend Shade
In December 2014, Cavallari lashed out at the show that made her famous for being contrived — and in doing so, subtly implied that Colletti would never have actually wanted to date Conrad in real life.
"Basically my boyfriend at the time, the producers would have him go and take out Lauren Conrad, take her to dinner, bring her flowers, which never would've happened if it wasn't for the show," she explained in an interview for Oprah: Where Are They Now? Ouch.
6. The Comparison Shade
Cavallari also shared her thoughts on getting compared to Conrad for 10 years. "It's been a part of my career since day one," she told the Huffington Post in 2014. "It is what it is, but it doesn't bother me. There's worse people to be compared to."
7. The Boyfriend-Stealer Shade
Then, in a 2016 interview with BuzzFeed, Cavallari revealed she and Conrad were never actually friends. "We just weren't," she said. "I didn't hate her before MTV came and the way it sort of turned into. And that's because I felt like she was trying to steal my boyfriend."
There you have it! It's obvious that the relationship between LC and Kristin was like trying to fit a square into a circle. But despite all the bad blood between these two successful women, it looks like their feud may finally be dunzo.
"If I saw Lauren today we would go up to one another, we would hug, we would ask how each other is doing," Cavallari told BuzzFeed. "It's been a while, but the last few times I've seen her we've given each other hugs and it's been great."